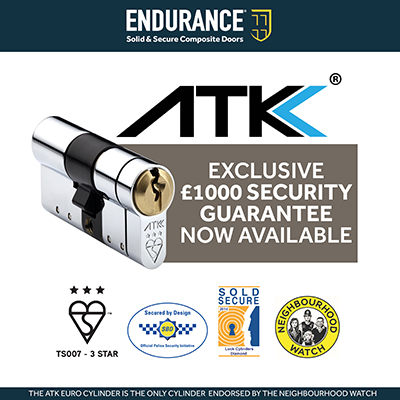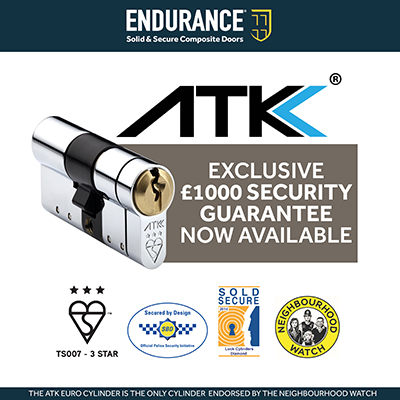 Endurance Doors is offering a £1,000 guarantee with all of its solid and secure timber composite doors fitted with the Avocet ATK cylinder, in the event of a burglar snapping this highly specified cylinder lock.
The Avocet 3-Star ATK diamond grade cylinder, which is said to be break secure, anti-bump, anti-drill and anti pick, is available as an upgrade to the Endurance Doors range and forms part of the company's Secured by Design offering. In addition, these cylinders are stamped with the official British Standards Kitemark, carry the Master Locksmiths Association highest rating – SS312 Sold Secure Diamond and are also recommended by Neighbourhood Watch.
In addition to the key turn version of this proven cylinder, there is also a click secure thumbturn version, which is Document Q compliant.
With Secured by Design and FD30S fire rated doors also in its product range, Endurance Doors believes it offers one of the most secure ranges of solid timber composite doors on the UK market.
The company says it can even add a CE marked and BBA certified door blank made from Kerto LVL to its list of recognised approvals.
Stephen Nadin, managing director of Endurance Doors said: "With security the number one key driver in the decision making process for external doors, we've introduced the £1,000 guarantee for all of our solid and secure timber composite doors manufactured with the ATK cylinder. Not only does it give our network of installers even more confidence, but also added reassurance to the homeowner."