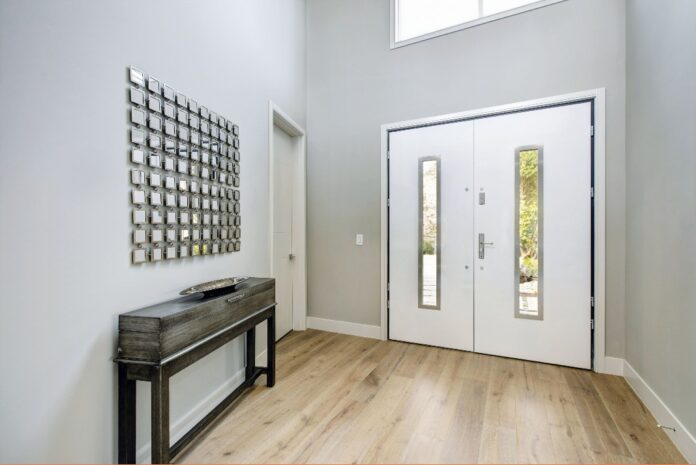 Independent UK glass processor ESG Glass has launched Secure Vue, a new, battery-operated, secure LCD switchable glazing panel, for use in domestic and corporate front doors, as well as medical and custodial internal door applications. Secure Vue allows users to switch the glass panel from optically clear to opaque, as desired, at the touch of a button, while providing a secure barrier. Secure Vue can be supplied in a range of sizes up to 0.5m², to fit a wide selection of front door designs.
Using ESG interlayer lamination technology, high-security and privacy features are combined in a single product. Representing a breakthrough for the UK market, according to ESG, Secure Vue comes complete with a printed circuit board and battery pack which is installed in the body of the door, to power the switchable inset panel. This means that there is no need to run wiring to a mains source, which may be some distance away. Secure Vue ensures that no trailing wires are visible, and there is no need to carry out disruptive work to conceal wiring.
This in-door installation makes Secure Vue perfect for a range of applications, says ESG's representatives, including domestic front doors. As a modern alternative to outdated spy holes, the Secure Vue panel can be switched to optically clear, so that the occupant can see and identify callers clearly, and then switched off, to re-establish highly secure privacy, while still allowing natural light to flood through. This product represents a highly cost-effective alternative to video door security systems, and avoids the installation of less-than-attractive video intercom panels.
In medical settings, such as hospital or examination rooms, Secure Vue can be used as observation panels in internal security doors, to allow monitoring at regular intervals, without disturbing or waking the patient. At the same time, it provides additional security to protect medical staff and patients.
It is especially appropriate in custodial settings, where a detainee, either for medical or custodial purposes, needs to be kept in one location. Secure Vue helps to prevent the detainee from attempting to break out, as well as ensuring that an attempt to break in would be unsuccessful.
Susan Sinden, ESG's commercial manager, said: "Secure Vue has been designed to meet the demand for both privacy and security in door panels. Until now, this was difficult to achieve because of the need for wiring from the door panel to the mains supply beyond the frame.
"Wires can be unsightly and the mains power can be located some distance from the front door. Now, by providing a printed circuit board and battery pack small enough to be installed in the door itself, we have opened the way for architects, designers and homeowners to specify a product which answers the previously conflicting needs of natural light, on-demand privacy, great aesthetics and high security, all in a single product. Secure Vue now represents a best of several worlds."