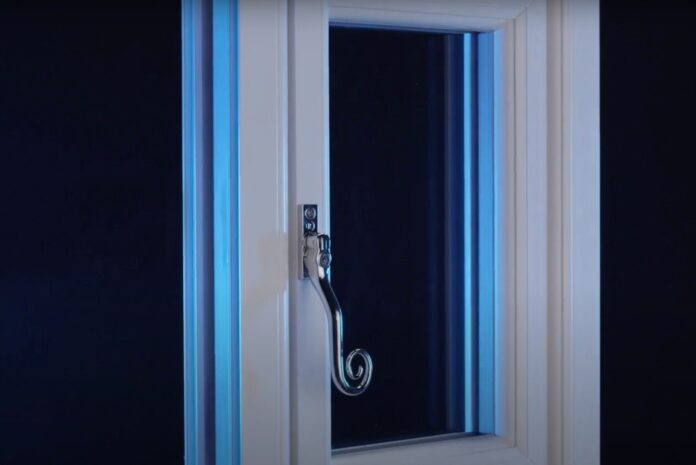 Kömmerling, Kubu and CWG Choices have worked together to develop the industry's first smart flush sash window, they say. The product uses a new Avantis multi-point lock, developed specifically for the project, which also includes an innovative concealed mullion option.
With the flush sash window market continuing to grow at a pace, this new development from three industry heavyweights points towards the fact that the market will enjoy accelerated adoption of this new window type, but now with smart sensor technology. The Kömmerling flush sash has been designed to be a technically better product, using a six-chamber design with a seventh pseudo chamber, and added material at the bottom leg to aid window production with TimberWeld, MechWeld and seamless welding technologies.
The new range of Avantis multi-point locks works with Kubu, as a sister brand of the mechanical engineering side of the business. Kubu Smart is now a stand-alone business, firmly focused on developing the next generation of smart sensors for windows and doors of all materials.
CWG Choices has a long history with Kömmerling as a manufacturing and development partner. Its experience of the flush sash window market also goes back several years. The partnership is one that has flourished over what has been a speedy development programme. Sales from the Midlands-based manufacturer are expected to be strong over the course of the next few months and beyond.
Kevin Warner, Kömmerling's sales and marketing director, said: "It's been pleasing to experience a product development programme with all participants eager for success. Our flush sash window is a market leader by design and quality, whilst the Avantis hardware is very highly regarded too. The clever bit is when the windows are activated with the Kubu smart sensor, something that will be showcased at the Fit Show in May."
For information about Kubu, visit kubu-home.com. To find out more about CWG, visit cwgchoices.com. For further information about Kömmerling, visit kommerling.co.uk, email enquiries@profine-uk.com, call 01623 579 200 or visit stand D21 at the Fit Show. You can also follow the business on Twitter (@profineuk and @kommerling_uk).