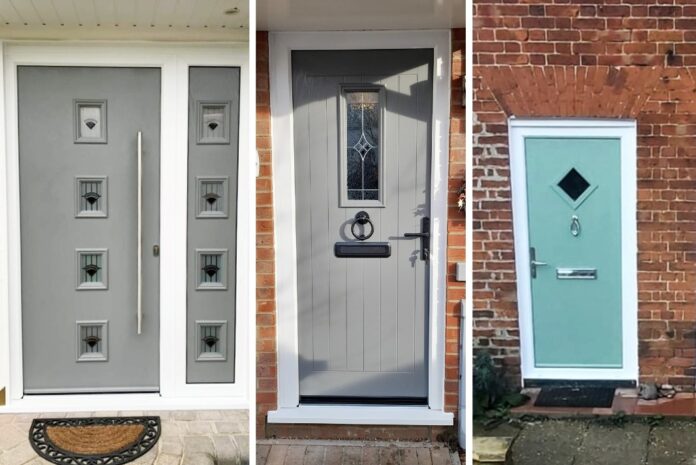 The Hurst Doors team has been highlighting the work of the business' skilled network of installers using an 'Installation of the Month' competition. The competition is to run for the next six months, and leaders of the composite door supplier are keen to encourage more installers to enter.
In October, when the competition first began, a team from Image Windows and Doors, Essex, won the competition for fitting a 'stylish and contemporary' composite door in anthracite grey. "We were absolutely delighted to win Installation of the Month," said James Last, Image Windows and Doors' director. "Hurst is a fantastic supplier, and homeowners love the huge range of door styles and colours we're able to offer from them."
In November, the winners were a husband-and-wife team from Chiltern Home Improvements, Bedfordshire. They fitted two Chartwell Green cottage doors with diamond glazing on a pair of stately red-brick cottages built in 1844. Tracy Brewer, owner of Chiltern Home Improvements, said: "We've been in business since 1998 and have consistently used Hurst since 2001. This shows you how much we love their products and service!"
The following month (December) highlighted a team from Purbeck Windows, Dorset, which fitted a refined cottage composite door in Dusty Grey. "We carried out this installation on a friend's house, so I was really pleased it won!" said Mark Spicer, the business' director. "Hurst is so good to work with, and they're a very valued partner for Purbeck."
In February, the competition was won by a team from Majer Windows, Essex, that fitted a 'stylish and contemporary' Bohemia door with Murano glass in Dusty Grey. Alan Boultwood, Majer Windows' director, described Hurst as "a fantastic supplier".
Installers of Hurst Doors can enter the competition by sharing installation images on Facebook, Instagram or Twitter, tagging Hurst Doors. Alternatively, entrants can email images to marketing@hurstdoors.co.uk. For more information, call 01482 790 790, visit hurstdoors.co.uk and read our report about the launch of Hurst Doors' competition.