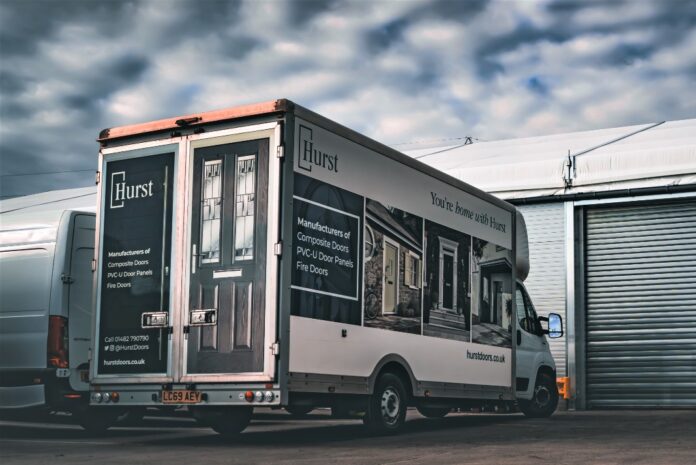 The manufacturer Hurst Doors has invested £200,000 in a new 430m² extension to its 50,000ft² manufacturing facility in Hull, to enable a greater consistency of service in its dispatch of PVC panels and composite doors. The investment is in response to five years of growth that has seen the business almost double in size, they say. The business has moved from manufacturing approximately 1,700 panels per week to over 3,500, and from around 200 composite doors to 500.
The new building, which is set to reduce the energy required for heating and lighting, is to house the finished goods storage and distribution area, providing up to 1,000 panel spaces and 500 composite door spaces as well as a dedicated loading area to load Hurst's fleet of 24 vans overnight. The extension is also to house the maintenance department and a small machining area featuring two CNC routers for preparing MDF cores and PVC skins.
Kevin Wheatman, Hurst's director and general manager, explained: "Almost doubling in size saw our factory space get very congested, very quickly, with dispatch encroaching on manufacturing, while our fleet of vans also doubled from 12 to 24. Creating the additional space has enabled us to increase our finished goods storage capacity for both panels and composite by over 25%. The freed-up space will also allow for an additional 30 bay storage area as well as further capacity in composite production for 100 more doors per week."
Other benefits include an improved 3m production line layout, both for storage of raw materials and line feed access, improving health and safety and production efficiency. The packaging of composite and panels has also been relocated to nearer the dispatch area.
Hurst's investment is set to improve its service to customers and provide the company with the means for further growth. "We have built our reputation on our on-time, in full (Otif) and have recovered to an Otif of 99.8% on panels and 97% on composites," added Kevin. "While we have hit those targets, this investment will make it easier to achieve them and reassure customers that we are doing everything we can to increase and ensure consistency of service.
"The additional space will also allow for future investment in the plant and equipment to facilitate the composite production process, improving both efficiency and reducing costs, giving us scope to grow capacity and the business even further." For more information about Hurst, call 01482 7907 90 or visithurstdoors.co.uk.