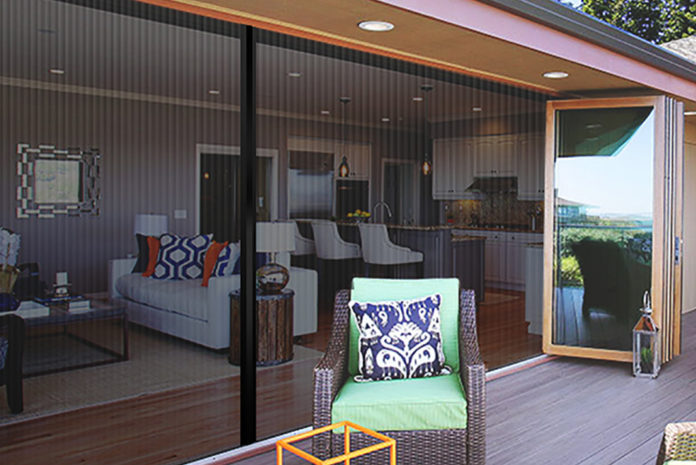 Ascena says that its simple and effective sliding flyscreen offers callback and add-on sales opportunities for all bi-folding and sliding door installations.
After a record-breaking summer in 2018, Ascena adds that sales of French, sliding and bi-folding doors are expected to hit new levels during the 2019 spring.
Offered to fabricators and installers as an add-on to almost any style and brand of French, sliding and bi-folding door, the Ascena insect screen is said to be highly effective at allowing fresh air in and keeping every type of flying insect and other pests out, whilst also offering an extra layer of protection and shade against the sun. The Ascena insect screen is manufactured from high-grade aluminium and may easily be retrofitted against most types and brands of French, sliding or bi-folding doors.
Aluminium extrusions, available in two standard colours – anthracite grey (7016) and pearl white – support high quality polypropylene mesh screens that, according to Ascena, cannot be torn or damaged in normal use. High strength, braided tensioning cords run horizontally to stabilise the screen and control vertical orientation of the handle bar. These tensioning cords run over precision bearings that are designed to ensure the mesh slides smoothly with a low operating force.
The tensioning cords also prevent the mesh from blowing out in windy conditions. Ascena says that its insect screen can withstands wind gusts up to 20mph before the mesh leaves the channel.
Ascena can be installed in openings up to 4,000mm x 2,700mm as a single screen or may be combined as meeting screens to cover openings as wide as 8,000mm 2,700mm.
The patented screen is offered with a five year warranty.