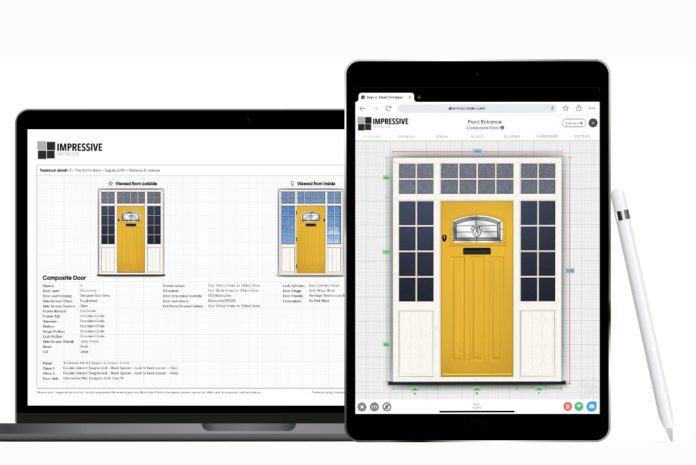 The GGP Installer Award-winning software company Tommy Trinder has called on users to decide which composite doors to next add to its Framepoint app. "Framepoint is already the most flexible, fast and exciting way for installers to quote their composite doors," said founder and CEO Chris Brunsdon. "But we want to go further. We're on a mission to create the world's most comprehensive composite door sales tool, and it makes sense to ask our customers to help drive it!"
Every month, Framepoint users are asked to take part in a poll, ranking a selection of composite doors from one to 10, based on the designs they sell most. The team at Tommy Trinder then count and verify the votes, uploading the winning styles to the platform.
"The benefit for installers is that they get all the composite doors they need, regardless of manufacturer, and they can quote these seamlessly in one app, alongside all their other products: casements, bi-folds, patios, sash windows," added Chris. Using Framepoint, installers can filter to show composite doors set in welded or mechanical outer frames, with or without cill horns. "They can be added as part of a coupled item – abutting any style of window (sash, flush, casement, tilt and turn) and can easily be combined within a bay. Ideal, for example, to model porches, with bespoke Georgian or lead layouts in top lights or side panels," added Chris.
Framepoint's makeover tool is perhaps its most popular feature, Chris argued: "Makeovers, where installers overlay new windows and doors onto an image of the client's house, are becoming a staple of the sales process. We're seeing volumes grow exponentially. In March alone, over 2,800 makeovers were prepared for homeowners by installers via the app. Being able to model a composite door alongside a houseful of windows is really helping installers win orders."
Installers can find out more about Framepoint, and book a free demo, at www.tommytrinder.com.