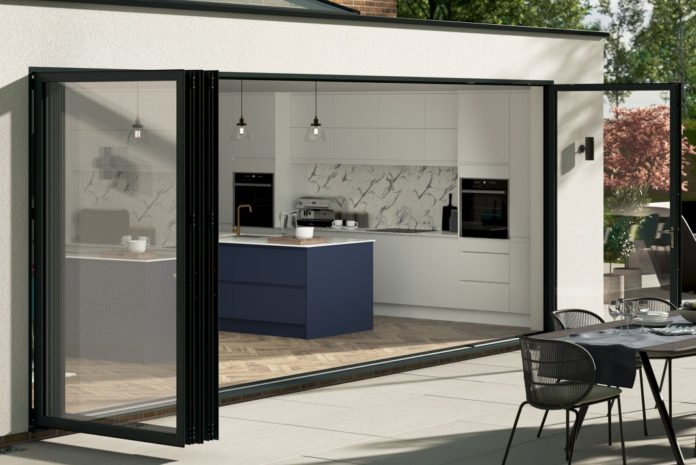 "Anyone that has spent any time on site fitting an aluminium bi-fold door will be all too familiar with the struggles associated with fitting, cutting and installing a wedge gasket," argues fabrication specialists Made for Trade. "It is probably one of the most time consuming parts of the install, and once it's in, the longevity of the install can depend heavily on the experience of the installer. We've all seen shrunken gaskets!"
Ashley Gaunt, Made for Trade's technical director, said: "For installers, the big innovation on the Korniche bi-fold door is our patented pre-gasketed clip bead. We have paired an aluminium bead profile with a rolled-in polyamide clip.
"Aluminium and polyamide behave in a very similar way under temperature changes, and this is an important factor when designing a composite bead. We have also designed a custom bead gasket that is factory fitted to the bead before its delivered.
"Due to the way it is manufactured with a polymer backing, it cannot shrink. The new system is simple, fool-proof and truly upholds our 'Glazed in seconds' promise."
Requiring minimal assembly and with everything included as standard, all Made for Trade bi-folding door quotes include delivery. Unless you kit form is specifically requested, their doors will arrive fully assembled too. "Once everything is on site, it should be a simple case of screwing in the frame, offering up and packing the glass units and then 'clipping' in the bead. Job done!"
Be the first to find out more about these new, easy-to-install doors and the trade marketing opportunities that feature alongside the award-winning Korniche lantern.
The Korniche bi-folding doors will also feature at this summer's National Homebuilding and Renovating Show, at Birmingham's NEC, from 8 to 11 July. Visit www.madefortrade.co and www.korniche. co.uk to find out more.