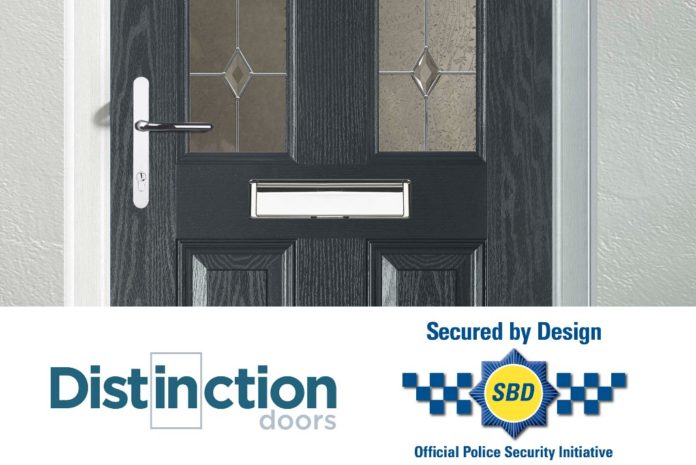 Distinction Doors has announced that it is the first stockist and distributor of glass reinforced polyester (GRP) door blanks in the UK to be granted Secured by Design (SBD) status. The company has gained approval for both standard and fire entrance door blanks. Its 44.5mm blank range, 44.5mm Signature blank range and 45mm FD30 GRP composite door blank have proven specification requirements to meet the certification of PAS 24:2016.
SBD is a police security initiative operated by the UK police service and provides a recognised standard for all security products that deter and reduce crime – the police preferred specification. All SBD products have been subject to rigorous testing and are certificated by an independent, third-party certification body accredited by UKAS.
"We were the first to introduce volume stocking and distribution GRP composite doors to the UK," said Dave Walker, Distinction Doors' technical director. "Ever since, we have upheld a reputation for leading the way, our new SBD status is another example of that. In providing door blanks which meet the police preferred specification, we are supporting SBD approved door fabricators in manufacturing the ultimate enhanced security doorset and helping to keep residents safer and reduce the likelihood of opportunist crime."
Distinction Doors believes that its new SBD status will generate greater opportunities in the new build sector and widen appeal in the replacement door market as specifiers and homeowners seek high-performance security solutions for both standard entrance and fire doorsets. With PAS 24:2016 certification, the 44.5mm blank range, 44.5mm Signature blank range and 45mm FD30 GRP composite door blank are all compliant with Approved Document Q – security in new dwellings.
Alfie Hosker, SBD's technical manager, said: "I am delighted that Distinction Doors has become a SBD member, particularly in the light of them being the first door blank manufacturer / supplier to attain SBD membership. This is supported with an exacting testing regime and underpinned with system specifications for enhanced security and fire performance that the door blank meets. It should also be noted that they supply a number of existing Secured by Design door fabricators. I look forward to this being a successful partnership."
Specification and certification details for each SBD-approved Distinction product are available online at the Distinction Doors SBD members page.