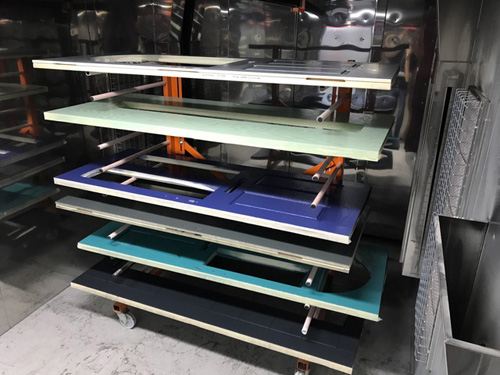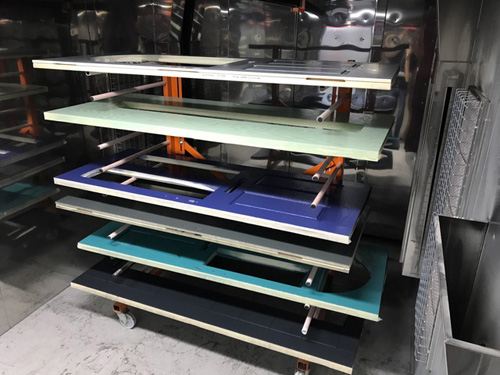 Doorco, the UK composite door manufacturer, reports that it has reduced lead times for painted doors from its UK facility, with one side painted doors now available in just five days.
"Colour makes up around 60% of our sales at Doorco," commented Jayne Sullivan, operations director at Doorco. "With this level of demand comes complexity, as an increasing palette of colours are required by our customers as quickly as possible. As part of our strategic investment plan to ensure we remained responsive to our customers' needs, in March this year we choose to invest in a purpose-built turn-key paint solution from Schubert's. The Schubox has provided Doorco with a technologically advanced approach to supplying customers of all sizes with the highest quality, consistent custom finishes. Both solvent and water based substrates react well, so not only have we noticed significant improvements in quality, but the unique infra-red drying process has dramatically reduced drying times.
"We no longer struggle with the bottle-neck that the painting process often causes and this has enabled us to speed up the painting process and therefore the time in which we can deliver to our customers. We can therefore now make the commitment to a reduced turnaround on painted doors – one sided painted doors are now available on a five-day turnaround, while double painted doors and stained doors can be delivered in just seven.
"Ultimate customer satisfaction is the key driver behind everything we do at Doorco. Whether it's a one-off prepped door, single or mixed pallets, being able to improve delivery times on colour is a great accolade to the commitment made providing excellent products and service and we will continuing to make improvements of this nature features at the core of what we do."