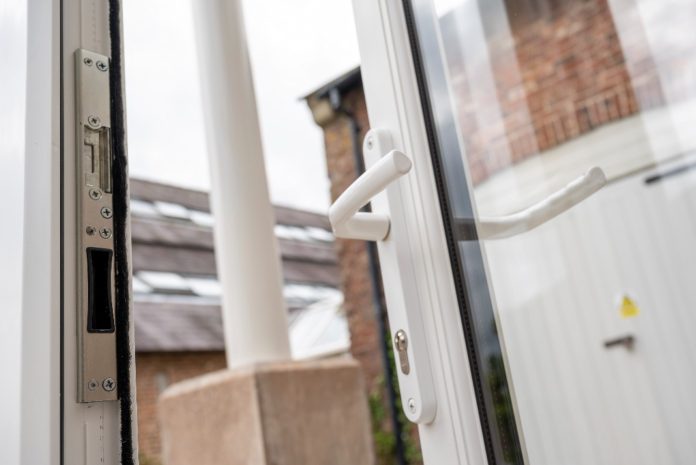 New external doors are among the top 10 homeowner renovation plans according to Checkatrade's Home Pride Index, and with its consumer research finding that the average worker currently gets 22 minutes of natural light per day, Rehau claims that it's no surprise people are wanting to let the outside in. The latest addition to Rehau's Rio flush fit range is a single, open-out door that complements its Rio window system, aiming to help fabricators and installers provide a consistent aesthetic to homeowners wanting matching windows and doors.
Following reportedly record sales of its Rio flush fit window, Rehau has extended its range to help meet consumer demand for more high-performing and aesthetically pleasing products, it says. The addition of the Rio flush-fit door, with a large glass panel, comes in response to a demand for new ways to increase natural light into a room, the business claims, after its study, of 2,000 adults working from home, found that the average worker gets 22 minutes of natural light each day. According to Rehau's study, three in 10 people have no natural light over their working area, and 65% are convinced this affects their productivity.
Clare Higgins, Rehau's product manager at Rehau, said: "This is a natural progression for our flush fit range, due to the ongoing popularity of the Rio flush fit window. What's really great is that the Rio door can offer a realistic timber or aluminium look but with the benefits of PVC, which ultimately lets homeowners get a consistent look across all windows and doors. It's an ideal way to open up the back of a property onto an outdoor or garden space. With the option to change frames to either chamfered (TOTAL70C) or sculptured (TOTAL70S) variations, fabricators can help customers put their personal stamp on a property."
Just two years after the launch of its Rio flush fit window, Rehau's Rio flush fit door uses existing TOTAL70 system profiles. To simplify the system sourcing process, Rehau has developed a solution which incorporates existing Maco hardware and SFS dedicated butt hinges.
Clare continued: "It's not uncommon for incorrect hinges to sometimes be used, which can cause doors to not align when closed. So, to eliminate any risk of this happening, we have worked in collaboration with SFS to develop the right solution with hinges specifically suited to the new Rio flush fit door."
The Rio flush fit door does not require a new door sash because Rehau's deep bottom rail – developed to complement the current Rio window range and provide more style options – can also be used in this capacity. The interchangeable profile also means less stock holding for customers.
Based on homeowner insight and the popularity of anthracite grey grained, simply white and pearl grey colours for the Rio Flush Fit window, Rehau's new flush fit door is customisable. Clare concluded: "The new, Rio flush fit door helps fabricators and installers respond to residential trends and offers homeowners personalisation. Not only does it continue the traditional aesthetic, it offers the same durability, security, and energy efficiency that the Rio window does. Fabricators and installers can also look forward to a French door solution as an extension of the Rio flush door offering, which will follow later in 2021."
Rehau is due to invest in the promotion of this product directly to consumers later in the year, in order to help generate further opportunity for its fabricators and installers. For more information, visit www.rehau.com/uk-en/rio-flush-fit.