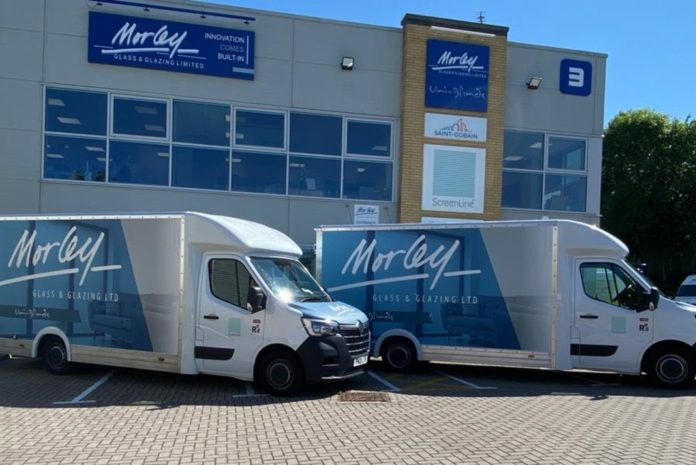 Integral blinds manufacturer Morley Glass and Glazing has taken delivery of six new Luton vans. The new vans boost the business' nationwide delivery capacity as demand grows, but they also greatly increase the amount of post-consumer glass that the business can collect and recycle through its Crush initiative.
The familiar, boxy Luton vans are the first to enter the Morley Glass fleet, and are ideally suited to the dual 'deliver and collect' role that its delivery drivers now undertake. The vans' layout means that Uni-Blind sealed units can be better distributed around the space, leaving more room for post-consumer glass to be brought back to the Morley Glass factory for recycling.
The addition of these latest vans increases the business' vehicle fleet to 36, which collectively deliver around 4,000 integral blind units every week to customers throughout the UK. But, as Morley Glass has expanded its glass recycling operations, its vans are increasingly returning to site with a highly recyclable and valuable material that benefits both the environment and good causes, thanks to the Crush scheme.
Crush is a joint initiative of Morley Glass and Saint-Gobain Glass, where glass from doors and windows that have been replaced is collected by Morley Glass and then crushed into cullet at its Leeds site. This is then returned in bulk to Saint-Gobain Glass, which pays for the glass cullet and uses it to make new float glass. One tonne of cullet saves enough energy to power a home for six months, which is why glass recycling is so vital.
So far, Morley Glass has returned 549 tonnes of cullet, preventing 158,556kg of CO2 going into the atmosphere and saving enough energy to power an average home for 264 years. Recycling post-consumer glass has also saved nearly 450,000kg of virgin sand.
Importantly, the Luton vans will significantly increase the amount of glass that can be processed through the Crush scheme. The business hopes that the vans will therefore make an even bigger impact when it comes to shrinking the glass industry's carbon footprint.
The Crush scheme does not only benefit the planet, but local communities too. The money generated from cullet is put into Morley's GreenVision fund. This allows local schools, community groups and charities across Yorkshire – all of which focus on improving the environment – to apply for a donation of up to £500 towards green projects.
Ian Short, Morley Glass and Glazing's managing director, said: "A rapidly growing customer base and increasing sales of Uni-Blinds mean we need to continuously invest in our vehicle fleet to ensure we can maintain our industry-topping lead times and delivery reliability. But we also have to ensure our fleet best suits the needs of our business today, and, as we are bringing more and more post-consumer glass back to Leeds than ever – and we will do even more in future – our new Luton vans tick all the boxes."
For more information about Morley Glass and Glazing, and its sustainability work, visit morleyglass.co.uk/sustainability.