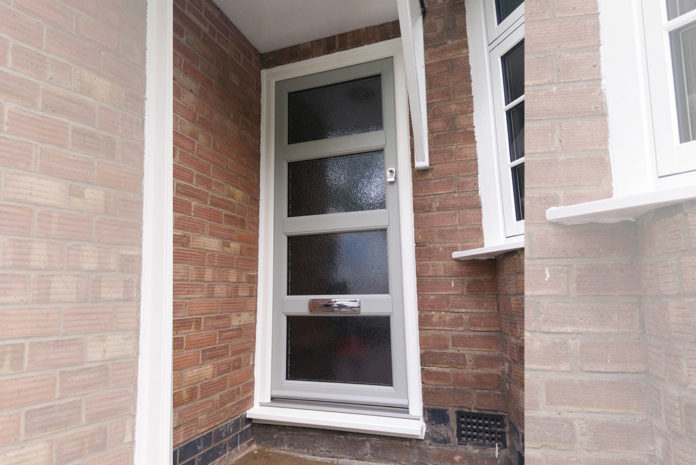 Halo fabricator, Aztec Windows (Coventry), has created a fully mechanically jointed door, and has tested it at Veka's Burnley test centre.
Aztec has reportedly been working on the door for more than 18 months, in response to a rise in customer enquiries for 'timber-look' PVC-U doors. Director, Michael Hagan, said: "Despite repeated enquiries for a mechanically jointed door, we haven't rushed in producing this system. We wanted to make sure we got it absolutely right for our customers.
"We created an oversized prototype (1,100mm x 2,200mm) complete with laminated glass, in order to test it at its most extreme dimensions. Veka's mechanical testing rig put the door through 63,000 cycles, which is the equivalent of it being opened and closed for just over 10 years, and it kept going! Nothing moved, nothing shifted, no joints parted. It performed absolutely perfectly. This means our customers can be confident in the immense strength of the joints, especially if they want to glaze on site.
"Along with the mechanical joints, we have also developed a deep midrail at 174mm and a deep bottom rail at 164mm. Both of these features are geared towards making the doors look as traditional as possible."
"We know that it's now ready to bring to market for prestigious projects that require the look of timber, with the many performance benefits of PVC-U, with no 'tell-tale' mitred corners!"
Veka UK sales director, Neil Evans, said: "After more than 30 years in business, Aztec shows no sign of slowing down. Using Halo profiles, the team already offer the mechanically jointed FlushSash and lipped casement within the Prestige Collection. It's great to see them utilising the same tooling and machinery to meet rising market demand for a mechanically jointed door. This would seem to be the next logical step in timber-look PVC-U and I suspect they'll soon be inundated with enquiries.
"Here at Veka, we're always ready to help customers with new product support; from R&D and performance calculations, to prototype testing, marketing support, and everything in between – our tools and expertise are great resources to be shared with customers," he concluded.