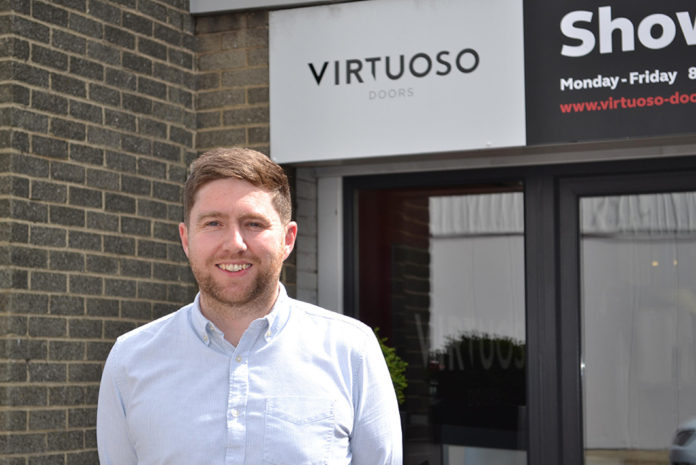 Virtuoso Doors has announced that it has gained 50 new customers in the first two months of the year alone. After achieving growth of more than 35% last year, the north east-based manufacturer has also revealed that it is set for more double-digit growth this year.
Virtuoso has reported growth across both the domestic and commercial sectors with a number of commercial installation firms reporting an upturn in business. The new build sector, where demand has risen to tackle the national housing shortage, has seen particularly rapid expansion.
Tony Craggs, managing director at Virtuoso Doors, said: "We're absolutely delighted to welcome so many new customers on board at a time when several manufacturers are reporting relatively flat trading conditions. In a challenging and fiercely competitive market, we're really proud to have achieved these impressive results and we're looking forward to sharing a great year ahead with even more new customers."
The news follows a significant recent investment into new machinery, people and processes at Virtuoso and the introduction of a second shift at the firm's 80,000ft2 site in Birtley.
"The rationale behind our future strategy and investment programme is simple," added Tony. "We invest in our equipment and resources to prepare us for growth, whilst also maintaining the superior standards of quality and service that our customers expect. Our promise to them is to deliver outstanding quality products on time and in full and to back this with an unrivalled support package that will help them maximise efficiency and achieve profitable growth."
Virtuoso says that its support package includes a 'wealth' of marketing resources, from personalised sales brochures, advertising and digital marketing support, to direct mail, retail leaflets and showroom display graphics. Virtuoso also offers its door designer software, Gateway, to customers free of charge. The software enables users to design, quote and order composite doors 24 hours a day.
One business that's said to be reaping the rewards of the support package from Virtuoso Doors is commercial installer The Window Company (Contracts). The Chelmsford-based firm reportedly installs around 1,000 Virtuoso composite doors a year.
David Thornton, chairman of The Window Company (Contracts), said: "Demand for composite doors is rising in the commercial sector, so it's important for us to have a long-term partnership with a supplier that can keep pace and not let us down.
"The quality of Virtuoso's doors is consistently high and the focus on service and support meets our exacting requirements. Lead times are good and we know that orders will arrive on time, which is vital when you're operating in the demanding commercial arena."