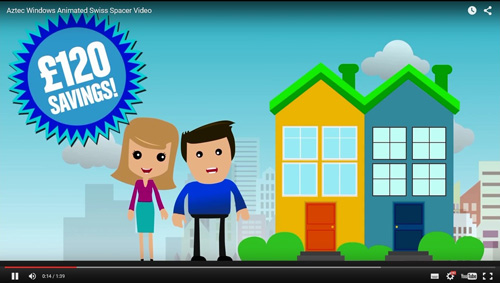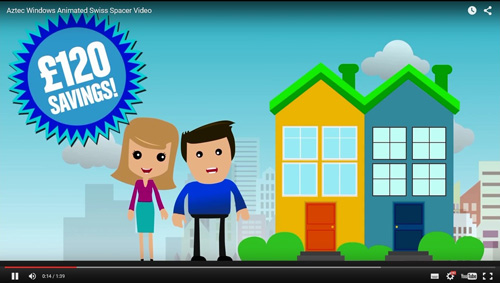 Coventry based window, door and conservatory installer, Aztec Windows, is the latest Swisspacer customer to benefit from a personalised, animated explainer video to sell the benefits of warm edge spacer bars to homeowners.
The video explains how windows with Swisspacer inside help homeowners save on energy bills year after year. All Swisspacer spacer bars have a high tech gas barrier, which preserves the lifespan of windows so they continue to save money.
Swisspacer is giving fabricators and installer customers the opportunity to have the video tailored with their own branding and contact details to use as a personalised selling tool in the home. Customers can also add it to their website and use it in social media.
Aztec Windows director, Michael Hagan, explained: "Windows with Swisspacer warm edge spacer bars inside benefit from outstanding thermal efficiency. But explaining the benefits of warm edge technology to homeowners isn't easy! The video spells out the benefits and explains the cost savings in a simple, fun and consumer friendly way. We've already uploaded it to our site and it will certainly make a great selling tool for our business."
Swisspacer sales and marketing manager (UK & Ireland), Vic De Costa, added: "Feedback on our video from customers has been exceptionally positive. So we decided to help them even more by giving them the opportunity to make it their own. The video is just one of many new selling tools we are introducing to help fabricators and installers sell top performing energy efficient windows with Swisspacer inside."
To see Aztec Windows video visit www.aztec-windows.com/aztec-tv or for more information call 024 7662 1316.