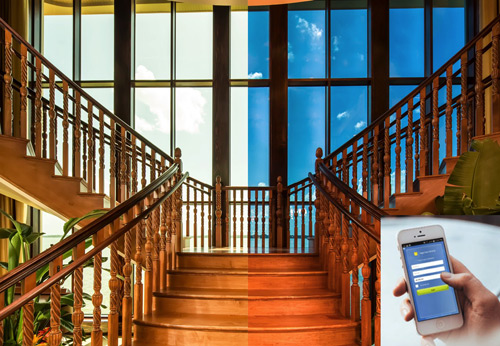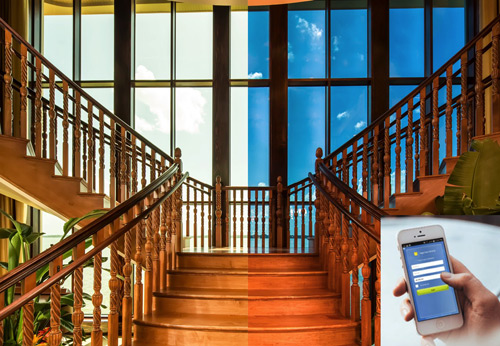 Clayton Glass has signed an exclusive deal to bring the 'revolutionary' switchable SageGlass to the UK residential market. It will be marketed as Smartglass Dynamic powered by SageGlass, on the back of Clayton's conservatory glass brand.
SageGlass is a dynamic electrochromic, tintable glass, which, according to Clayton, is perfect for conservatory and lantern roofs, along with bi-folding and large patio doors, as well as windows. This new genre of glass has reportedly been hugely popular in the USA and Clayton Glass hopes that this exclusive deal will help open up the UK market for switchable glass.
The launch of Smartglass Dynamic will enable homeowners to control sunlight without shades or blinds, so they can manage glare and heat while maintaining a connection to the world outdoors, all via a smartphone app, available for iOS and Android devices.
Glass that changes tint to control sunlight and heat is a simple concept, but a sophisticated engineering challenge according to SageGlass, which is the result of more than two decades of research in dynamic glass. The product is protected by more than 300 US and worldwide patents.
The electrochromic coating on SageGlass consists of five layers of ceramic material. Applying a low voltage of electricity darkens the coating as lithium ions and electrons transfer from one electrochromic layer to another electrochromic layer. When the voltage polarity is reversed, the ions and electrons to return to their original layer, causing the glass to return to its clear state. This reaction is controlled through a very low (less than 5V DC) voltage power supply.
Ryan Green, managing director of Clayton Glass commented: "This is the most exciting product launch ever for Clayton Glass under our Smartglass brand and will quite simply transform the way we think about controlling glare and solar heat gain. This product will also be featured in the Innovation Zone at the FIT Show, where people can experience this revolution themselves."
You can also experience Smartglass Dynamic, powered by SageGlass, revolution on stand A30 in the Innovation Zone at the FIT Show.