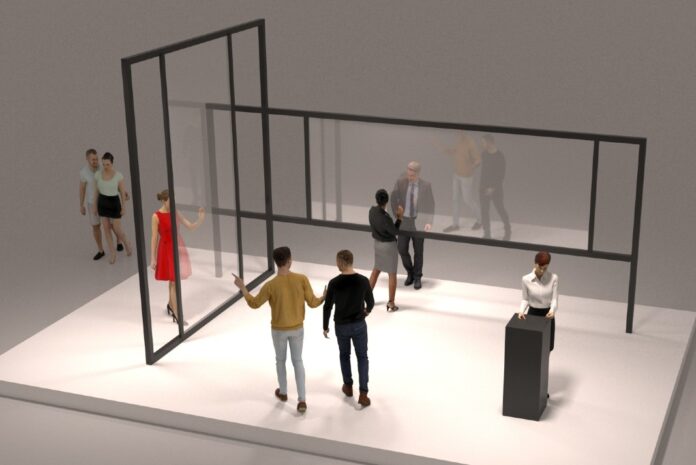 Eyrise has pledged to display 'the largest dynamic liquid crystal glass panels ever built' at this year's international trade fair, Glasstec. The display is scheduled to take place in the exhibition's Glass Technology Live hub.
Thanks to the dynamic liquid crystal glazing business (Eyrise), Glasstec visitors are set to experience an interactive installation of two glass modules for building façades and interiors. The Eyrise team expects to showcase live demonstrations of solar shading and privacy glass, alongside its innovative control technology. Glasstec is set to take place from 22 and 23 September, at the exhibition centre in Dusseldorf, Germany.
The s350 solar glass for façades, measuring 3.5m by 1.6m, is the largest piece of its kind to date, according to Eyrise. Alongside the Technical University of Delft in the Netherlands and Cambridge University in the UK, Eyrise has developed a new type of facial expression control that visitors can use to interact with the glass and regulate light transmission. A camera mounted above is set to capture each facial expression, evaluate it using intelligent software and send the corresponding command to the electronics of the glass module.
Eyrise's liquid crystal solar shading glass is marketed as offering a very short switching time compared with other technologies. Light transmission is regulated within a second, without compromising on natural daylight. The product is designed to maintain a comfortable environment and positively impact occupants' wellbeing.
Also while at Glasstec, Eyrise representatives hope to show how partition walls created using i350 privacy glass can be used as surfaces for projecting videos, presentations and advertising. "Glass Technology Live is a forum for pioneering technologies in the glass industry," said Celine Glipa, CEO of Eyrise. "The interactive experience we will showcase illustrates our vision of how intelligent, future-focused buildings can be dynamically adapted to people's needs with the help of liquid crystal glass and innovative control technology."
Eyrise's 'The Dynamics of Liquid Crystal Glazing' installation is to be located at stand C42 in Hall 11. Eyrise and the Technical University of Delft are set to host two talks at Glasstec: 'Face to face: the potential of a novel façade control based on facial expressions' on Thursday 22 September at 11.40am, and 'Dynamic liquid crystal glazing to enhance buildings' performance and GBCs' on Friday 23 September at 10.40am.