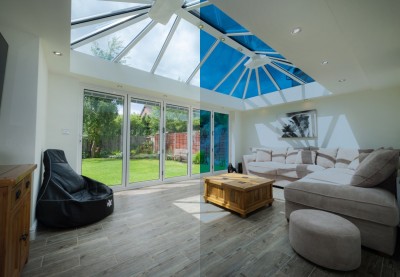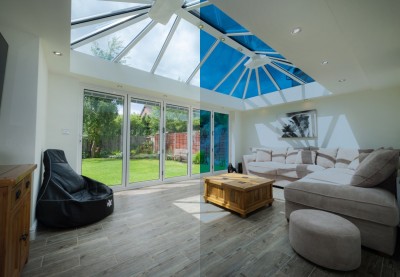 Clayton Glass will be exhibiting in the Innovation Zone at this year's FIT Show, with its new Smartglass Dynamic, powered by SageGlass, product featured both on its stand, and at the front of The International Centre Telford as visitors arrive at the show.
Smartglass Dynamic is a clear glass that, at the push of a button, can transform across a number of 'intermediate states' to a blue, fully tinted state in a matter of minutes. In its fully tinted state, this 'revolutionary' glass technology from Saint Gobain can reportedly block 91% of the sun's rays and reduce light transmission to just 1%. In its clear state, it reportedly has similar properties to a standard IGU.
This new electrochromic switchable glass technology will be initially available in a range of lantern roofs from a select number of partners including Prefix Systems. The stand will feature one static and two interactive samples of the Smartglass Dynamic in action, including an UltraSky lantern roof, along with a live video demonstration.
Smartglass Dynamic is part of an expanded range of specialist solar control glass for conservatories, orangeries and lantern roofs and includes Smartglass-W, which is a product range specifically designed for conservatory doors and windows, along with large span bi-folding doors and lift and slide patio doors.
Jason McCabe, commercial director of Clayton Glass commented: "Smartglass Dynamic is yet another example of Clayton Glass bringing next generation glass to the marketplace. We're now able to offer electrochromic switchable glass at a commercially realistic price for lantern roofs, within a 10 day lead time and it fully supports our product innovation strategy for glazing in windows, doors and conservatories."
You can see Smartglass Dynamic in the Innovation Zone at the FIT Show on stand A30.