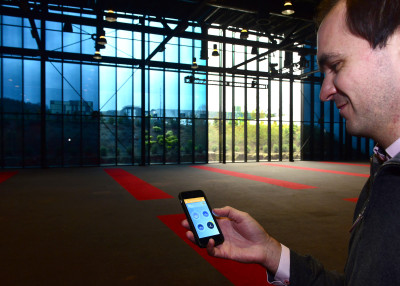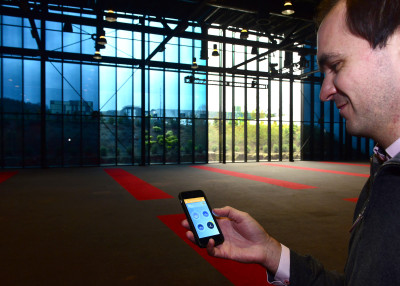 The replacement of 132 conventional glass units with SageGlass Lightzone electronically tintable panels has been completed at the International Centre, Telford, ahead of next month's FIT Show (12-15 April).
The installation will allow UK buyers and specifiers to experience the 'comfort and well-being' offered by SageGlass and also provide FIT Show visitors with a large scale demo of the product, launched for UK conservatories and domestic applications by Minnesota-based SageGlass (a member of the Saint-Gobain Group) and its partner, Clayton Glass.
A total area of 314m2 has been glazed with SageGlass Lightzone, which allows for the creation of up to three 'variable tint zones' within a single pane of glass. In early testing, the company's technicians demonstrated the versatility of the glass by spelling the name, 'SageGlass', in the wall.
The glass is automatically controlled by four external light sensors which detect predetermined light levels at which the SageGlass Lightzone will tint from the clear state of 60% light transmission, in four stages down to only 1% light transmission. Simultaneously, the solar factor will decrease down to 5%, thus providing a very efficient sun protection that will keep the building cool while leaving the glazed facade perfectly transparent and maintaining an unobstructed view to the outside.
All cable and controls are integrated in to the system and are easily installed in the existing curtain walling. Tinting and light levels may be also controlled through the SageGlass mobile app.
The Fabricator Installer Trade (FIT) Show takes place at the International Centre Telford on 12th, 13th 14th April 2016. Register for free tickets at www.fitshow.co.uk/register