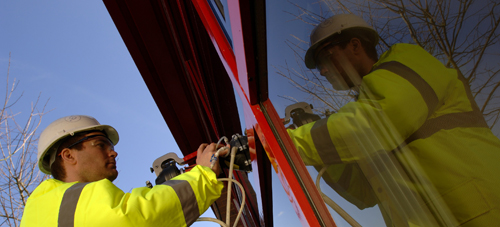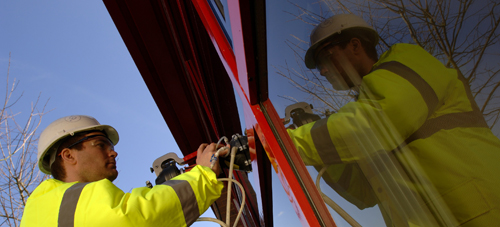 The Glass and Glazing Federation (GGF) has released a new technical data sheet entitled: 'Glass Repair Removal of Surface Damage from Glass.'
The publication covers the optical and quality factors that influence the appearance of glass following surface repair, with emphasis on 'visual performance' when glass is viewed from inside a building.
Bob Griffin, of Re-newglass and chairman of the GGF Glass Repair Group, commented: "This will prove not only a highly useful data sheet but also a very important one for the sector. For some time there has been concern in the industry over glass polishing and in particular on toughened glass. This document answers those concerns."
The data sheet addresses causes and types of glass surface and edge damage, as well as optical and visual quality across many types of glass including annealed, toughened, laminated and coated glass. The publication then explains the repair process and method of assessment.
Bob added: "I am very pleased this publication has been released. It will provide vital information for customers and glass producers who are looking for guidance on treatment options for surface damage. It is the authoritative technical publication that should become a required industry reference for all looking to repair glass."
The Glass Repair Removal of Surface Damage from Glass data sheet (Ref 5.15.1) is available for free download for all GGF members from the Members' Area of the GGF website. Non-members can buy this new product direct from the GGF Shop.
Bob Griffin will be presenting at GGF Members' Day on 1 September in London, where he will be highlighting the Glass Repair Group's activity.
To find out more about the GGF Glass Repair Group, visit www.ggf.org.uk/group/glass-repair-group or contact Micky Sulston info@ggf.org.uk