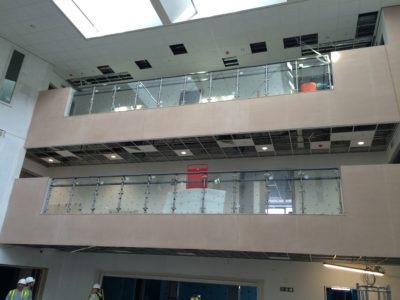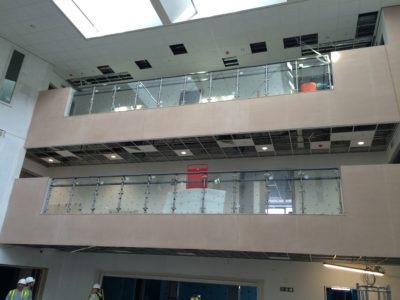 Specialist toughened safety glass manufacturer, TuffX, has given an old high school in Rhyl a revamp.
A more 'modern vibe' has been created with glass balconies which act as hallways, offering a 'more contemporary and welcoming' atmosphere for the staff and students.
The installer contacted TuffX and explained the need for glass that was suitable for balconies and completely safe for pupils and staff. TuffX recommended its 11.5mm clear toughened laminated glass and supplied the installers with approximately 80m2 in various shapes.
This particular toughened safety glass was suggested as it holds together when shattered. In the event of breaking, the glass shatters into small particles and is held in place by an interlayer, cast between two other layers of glass. TuffX says this would be ideal for a school because if broken, the glass can be replaced easily and will reduce the risk of injuries because toughened laminated glass does not shatter like annealed glass.
TuffX manufactures its toughened laminated and laminated heat strengthened glass in-house on state-of-the-art machinery to meet all current industry standards. It produces the glass up to a maximum size of 4,000mm x 2,200mm.
The head teacher of Rhyl High School said: "We wanted it to be about learning on view, so there's loads of glass, nothing's hidden…You can't walk through here without seeing through every classroom and through every area."