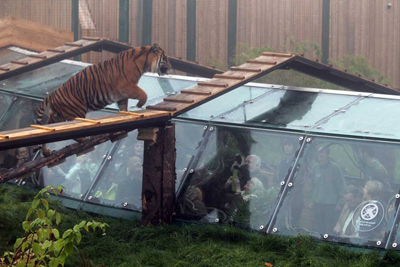 A new tiger exhibit at Edinburgh Zoo has been hailed as a roaring success thanks to the toughened laminate glass supplied by TuffX.
The zoo decided to create the 'Tiger Tracks' attraction, which enables visitors to walk through the tigers' den via a glass tunnel, following prior complaints that the zoo's Sumatran tigers, Jambi and Baginda, were difficult to see in their enclosure.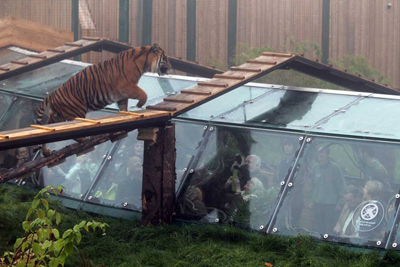 With the tigers being one of the zoo's main attractions, 'Tiger Tracks', offers visitors a 'live experience' of the tigers in their own environment.
TuffX supplied approximately 70m2 of 35.5mm toughened laminated glass, which is made up of 19mm toughened clear laminated to 15mm toughened clear. Glass of high strength resistance with optimum safety features was required to ensure the safety of both the visitors and the animals. TuffX suggested safety glass which in the event of breaking, is held together by an interlayer between two other layers of glass.
TuffX manufactures its toughened laminated and laminated heat strengthened glass in-house on state-of-the-art machinery to meet all current industry standards. The company produces glass up to a maximum size of 4,000mm x 2,200mm.
Edinburgh Zoo is reportedly extremely pleased with the outcome of 'Tiger Tracks'.  Barbara Smith, interim CEO of the Royal Zoological Society of Scotland, said: "Jambi and Baginda's new home delivers on welfare, breeding and visitor experience grounds. At three-times the size of our previous Sumatran tiger enclosure, Tiger Tracks will provide a more enriching experience for our animals and greater engagement for our visitors."
http://www.edinburghzoo.org.uk/animals-and-attractions/main-attractions/tiger-tracks/