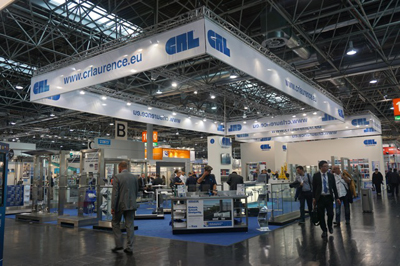 CRL reports a successful fourth outing to Glasstec, where it showcased its core products and some 'notable new developments for the glass and glazing industry'.
The company's array of glass balustrade systems, shower door hardware, door hardware, architectural metals and glass and glazing tools and accessories are said to have grabbed the attention of visitors to this year's show.
One of the highlights of the 300m2CRL stand was its 'ever-popular' Taper-Loc frameless glass balustrade system, which is now said to offer a lighter, more affordable and even stronger extruded base shoe.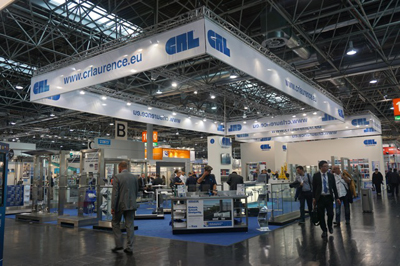 Launched at the show was Compact-X, a new interior décor range of sliding glass door systems offering a compact sliding solution for frameless glass panels. Combining the latest technology with what is described as an 'attractive and minimalist' design, the system is quick and easy to install in domestic and commercial applications. It features a double soft-brake system that cushions the glass panels when opening and closing the doors. Suitable for glass panels of 8mm, 8.76mm, 10mm and 10.76mm in thickness with a minimum width of 635mm and a maximum weight of 70kg each, the system conceals all of its sliding components within the top track, giving a 'pleasing aesthetic appearance'. Compact-X is suitable for ceiling, glass and wall mounted applications and in two top track finishes: satin anodised and brushed nickel.
In addition, the distance between the wall and the glass panel can be adjusted between 16mm and 24mm, depending on design requirements, and can be installed in three different configurations, all featuring the double soft-closing mechanism. The options of one sliding door panel, and one fixed panel and one sliding panel, both include a self-closing mechanism that comes into action when the door is between open and close position. The mechanism pulls the sliding door to fully close it.
The third possible configuration is with two fixed panels and two sliding panels which includes a synchronised system of both doors opening and closing simultaneously. Compact-X has been tested to 100,000 cycles in accordance with European performance standards EN1527 / EN1670.
Another focus for CRL at Glasstec was its popular Juliette balcony system, with its modern design and 'sleek, clean' lines. Simple to install, the system comprises two 48.3mm diameter cap rails to secure the glass in position (12mm to 25.52mm thick) and four balcony connectors. Manufactured from 316 grade stainless steel, the Juliette balcony system is available in a choice of a brushed or polished stainless steel finish. The system has been tested to a width of 2,400mm certificate.
Last but not least, CRL has launched its new shower door hardware brochure, boasting one of the biggest ranges on the market to help create shower enclosures or shower areas that are 'truly bespoke'. The brochure features the company's most popular and newly released products, including shower hinges, sliding doors, clamps, U-channels, seals, knobs, towel bars and locks.
Commenting on the success of the show, Simon Boocock, managing director of CR Laurence of Europe, said: "It was great to be back at Glasstec, which is always a very worthwhile exhibition. It offers a great opportunity to present a wide range of products to our regular customers and we always make very good new contacts in the industry.
"The show also gives us the opportunity to meet many new customers and offers the ideal platform to launch new products and ideas and garner feedback. It is always exciting to see the whole industry coming together."