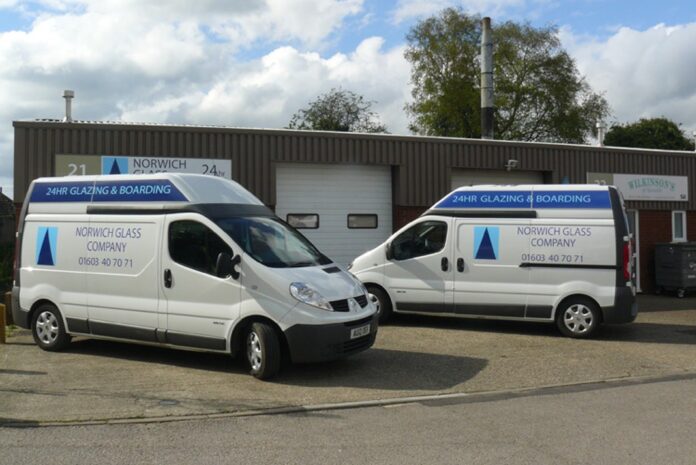 Online shopping has seen a dramatic rise in the past few years, and this extends to the construction sector. People want convenience. If they can order what they want from the comfort of their own home or whilst on a job, they will.
Norwich Glass launched its online shop in 2020, unintentionally coinciding with the beginning of a UK-wide lockdown. However, rather than being a setback, the move instead enabled the business to go from strength to strength.
The ability to order custom-made glass online puts Norwich Glass in a unique position. Customers can cost up jobs in just a few clicks, and conveniently place orders on their phones. Providing national delivery as well as free collection for residents of Norfolk and surrounding areas, Norwich Glass offers 'the perfect solution for replacement glass or new installations', its representatives say.
From splashback glass to double-glazed and greenhouse glass, the business claims to provide a wide variety of glass types to suit all construction needs. Customers have the flexibility to measure the exact size they need and input the measurements there and then online, to get an instant price. Customers can also enter specific requirements, including glass size, shape, colour and even plug socket cut outs.
Having been in operation for over 15 years, Norwich Glass is an independent supplier of glass in Norwich, serving both domestic and commercial customers. The business' motto is to cater for all.
As well as the online shop, Norwich Glass offers a walk-in 'cut and go' service on certain glass types at their Norwich-based workshop. This can be handy for unexpected glass breakages or for when extra glass is needed for a project.
Looking forward to the future, the business' goal is to continue to expand its online shop product range, catering for even more glass projects. James Neill explained: "We are very proud of our team embracing the new processes. Despite all this change, we are always focused on offering the best customer service and making sure that all glass arrives safely."
For more information, and to order glass online from Norwich Glass, visit norwich-glass.co.uk/shop. Alternatively, call 01603 407 071 or email info@norwich-glass.co.uk.