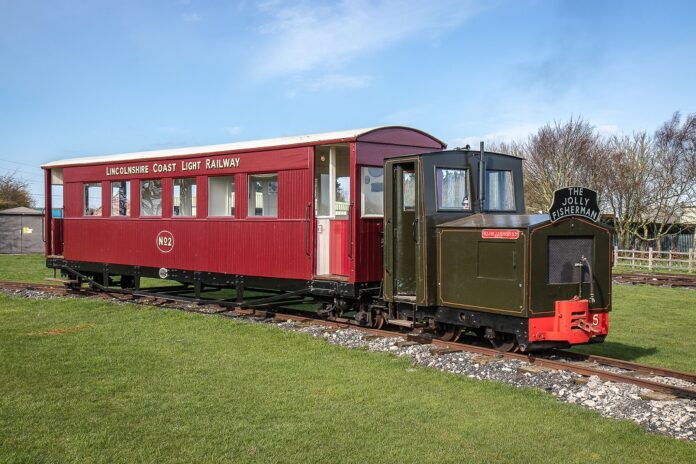 Piper Windows has donated the safety glass necessary to reglaze the windows of a near-century-old railway carriage in Skegness, Lincolnshire. The move is set to accelerate the restoration project, which is being carried out by a team of volunteers from a charitable trust that supports the conservation of historic vehicles on the Lincolnshire Coast Light Railway (LCLR)..
Thanks to the generosity of Piper Windows, the carriage's original drop lights can be reinstated, saving the volunteers a substantial sum, according to LCHR representatives. Piper Windows is located on the train route in nearby Church Lane, Winthorpe, Skegness.
The charity team aims to bring the old railway carriage back into working order in the Skegness Water Leisure Park. The carriage has been out of use for 37 years.
As part of the restoration project, seats from former tramcars are to be fitted as well as new drop-light frames made by one of the volunteers during a Covid-19-induced lockdown.
Steve Radford, managing director of Piper Windows, said: "We like to support the community of Skegness and the way the volunteers on the railway have restored these priceless parts of our heritage is remarkable. We're delighted to help the restoration of this historic railway carriage. As Skegness weather is known to be bracing, strong, safe, new windows will make travel in the carriage more enjoyable for its passengers."
John Chappell, a trustee of LCLR's Historic Vehicles Trust, explained: "Piper Windows' generosity will help our volunteers significantly to complete the restoration. It  saves the railway money, which can now be used to enable rotted timbers to be repaired, the roof to be sealed, the seating to be installed and the bogies and air brake systems to be renovated ready for repainting and a return to service."
The carriage is one of four built in 1925 for the Ashover Light Railway in Derbyshire, by the Gloucester Rail Carriage and Wagon Company. In the second world war, the vehicles were used as restrooms and changing facilities for female workers recruited by the Clay Cross Company's factory to help with wartime production.
Afterwards, the carriages became cricket pavilions at the company's sports ground in Clay Cross. Two were sold to the Lincolnshire Coast Light Railway in 1961 where they were repaired, placed on bogies with strengthened underframes and used to carry holidaymakers from the line's original terminus.
When the site closed in 1985, the two carriages, along with all the other rolling stock from the LCLR, went into storage at Burgh-le-Marsh, before they were moved to the developing Skegness Water Leisure park in 1992, where the railway was being reconstructed. One of the pair was restored nearly 20 years ago in readiness for reopening in 2009. In 2017, that carriage formed part a royal train for Princess Anne when she visited the site.
John added: "The LCLR has become a unique part of the heritage of Skegness and attracts people from all over to see our unique collection. The safety glass has been delivered to our site and now we have ceased passenger services until next summer, we can press on with this work. All of us involved with the railway are very grateful to Piper Windows for making this possible."