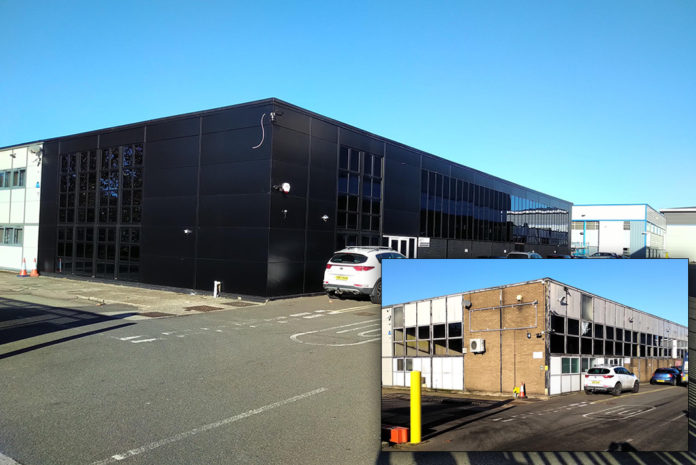 Planet Roofing has upgraded all the windows at its new premises in Basildon, Essex, with glass from TuffX.
The new factory was completely refurbished this year, including new windows to the front and side to complement the building's new black cladding.
TuffX's Ambi Ultra glass was chosen for the windows due to the south-facing aspect of the building. Ambi Ultra is a dark, self-cleaning, low-E solar tinted product which allows 8% light transmission whilst achieving 91% solar heat reflection and a 'U' value of 1.0.
According to TuffX, this makes it the highest performing product of its kind available on the market.
TuffX adds that this combination of high performing features makes Ambi Ultra the ideal choice to reduce glare and heat in offices and factories, as well as for south-facing conservatories in the home.
In total, 100m2 was used in the refurbishment. The factory, which had not been modernised in 30 years, was completed in August 2020.
"It's turned us into something of a landmark in the area. It has completely transformed the factory and the glass does the job we expected of it," said Paul Rickman of Planet Roofing.
"We've had a great relationship with TuffX for many years. With TuffX we knew we'd get the right product with excellent customer service and efficient delivery."
TuffX's managing director, Graham Price, said: "We've worked with Planet Roofing for a long time, supplying glass for their rooflights, and were delighted to be chosen to help transform their new premises.
"We were able to advise on just the right glass for the job and deliver it to the standard Planet Roofing knew to expect from us. The finished result functions brilliantly and looks fantastic. We wish them many happy years to come in their new location."