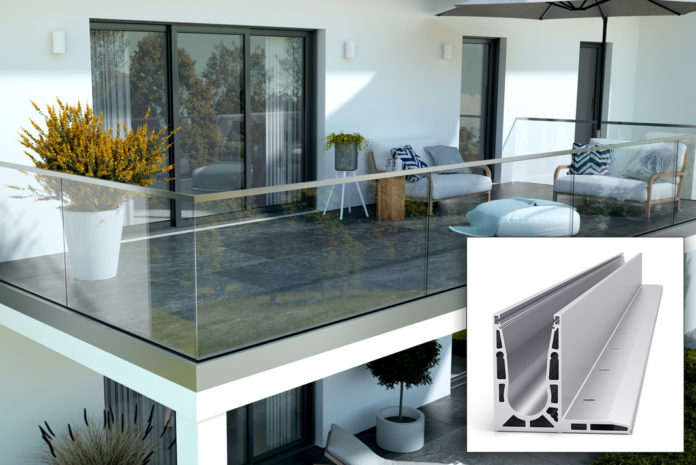 Bohle has unveiled its new 'F' profile for its balustrade system, Vetromount, which offers a flush fit to the edge of the platform.
VetroMount, which has been developed by Bohle specifically for the growing residential market, has been designed to simply installation and eliminate the requirement for specialist tools and reducing fixing costs.
It does this using a highly innovative mounting kit. This sits inside the profile, fixing the glass into place using a knock-in clamping system and patented 'zip-lock' mechanism to lock it into place.
Dave Broxton, managing director Bohle, said: "VetroMount F, is designed to allow you to deliver a flush-to-the-face fit, aligning with the edge of the platform, while still delivering all of the installation efficiencies that the top-mounted and side-mounted options deliver.
"This includes the use of fewer fixings, lowering cost and also time on site as there's less drilling to do; and easy adjustment, alignment and installation of glass using the innovative click-and-lock mechanism."
Available in standard 2.5m and 5m lengths in top and side-mounted options, VetroMount F accommodates glass thickness of up to 21.5mm and is tested to a rail load of 0.74kN.
It's also counterbored, which means it's suitable for use with standard, rather than more expensive counter-fix fixings. The design of the system means that drill holes can also be set further apart at distances of up to 400mm (top-mounted).
The easy-adjust system can also be aligned to plus or minus 20mm in either direction by hand – and without the use of specialist tooling. The glass is then locked in place using an intuitive and patented push and pull mechanism.
Dave continued: "It's a product that has been developed by Bohle specifically for the residential balustrading market so it's far less complex than commercial systems. It's easier to fit, and because of that there's more margin in it."
The modular system also features a highly innovative click-and-fix stainless steel finishing option, which is supplied as an add-on to the standard anodised finish, giving installers the flexibility to upsell, without tying-up capital in additional stock holding.
"Fitted flush to the edge of the platform, the F profile delivers very clean sightlines, with the option to upsell to a stainless steel finishing option, delivering the opportunity to build in more margin," Dave said.
"It's a sales platform for anyone with installation experience. Not only those already fitting balustrading," he concluded.