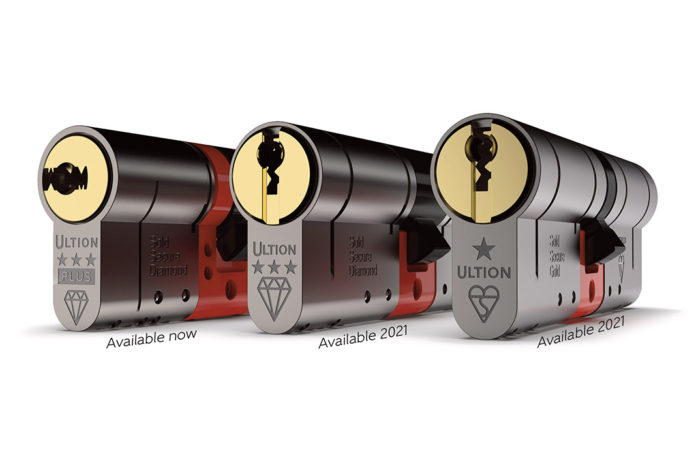 Brisant has announced two new locks: the Ultion 1* cylinder and a new Ultion 3* product which will be launched in the new year.
The new Ultion 1* cylinder, which is Sold Secure Gold accredited, can be used with 2* security handles to achieve 3* security overall.
Originally developed in 2019, Brisant upgraded the original Ultion lock to the WXM with more molybdenum and what is reported to be the strongest key on the market. This 3*Plus solution is said to deliver 'extreme durability' for where locks are subjected to extreme stress.
According to Brisant, this change was evidenced by its market-leading cycle test, beating the 100,000 requirements by a further one million cycles. The marking on the lock is changing to show this achievement by displaying the 3*Plus.
The new Ultion 3* lock will sit between the new 1* and the existing 3*Plus. The intention is for the lock to be TS007 3* rated and Sold Secure Diamond security rated.
Uniquely, the new 1* and 3* Ultion locks can be keyed alike. So, with one single Ultion key homeowners can access all areas of the home: a PVC entrance door with a 3* Ultion, a PVC panel inner door on a porch with 1* Ultion, a bi-fold door with a 3* Ultion, and even a garage door or shed.
All Ultion locks are backed with the Ultion security guarantee against burglary by lock snapping. The guarantee does not ask the homeowner to report on the performance of the installer, as some guarantees do.
Nick Dutton, Brisant CEO, commented: "Ultion has become so successful in meeting the security needs of the industry that it's become the default for extreme security. We listened to customers wanting to extend the premium Ultion brand to other areas and we responded, so homeowners and installers can now buy doors for other areas around the home that will protect against even the most determined burglar."