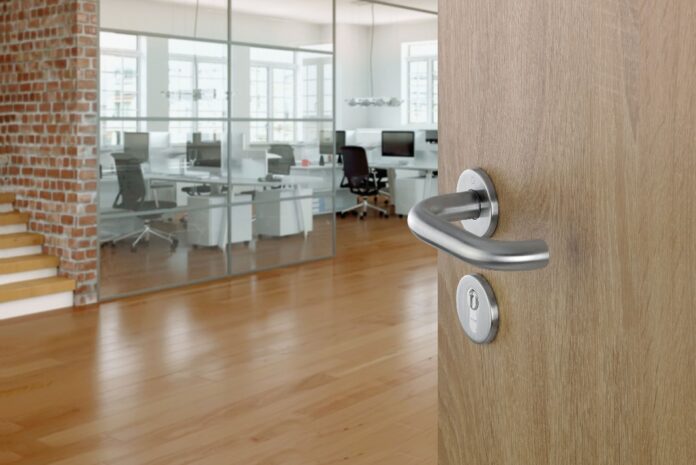 Representatives of the architectural ironmongery manufacturer Arrone, and the timber products supplier Falcon Timber, have reported successfully testing a range of door hardware with Falcon's Strebord 44 FD30, to provide installers with a set of fire door products that can be purchased off the shelf. Falcon Timber was formerly known as Falcon Panel Products. Arrone is a Hoppe brand.
The products are marketed as offering a complete solution for fire door requirements in commercial buildings, as well as being suitable for a range of common door applications, including doors that need to be non-locking, latch/locking and deadlocking. Riser/storage rooms and bathroom doors are also provided for by the range, they say.
The mix of products tested include the AR8182 ball bearing hinges, the AR1500 size two-four door closer, and intumescent and fire door signage, with choice of lever handle and pull handles escutcheons, locks and latches depending on where the door will be fitted. Thumb turns and push plates are also covered, according to the businesses' representatives.
"Choosing products for fire doors can be complex," said Ged Ryan, CEO of Hoppe UK. "Installers often have to navigate several test sheets, symbols and quality marks to know which hardware is suitable for use on fire doors, and even this is dependent on the type of building the fire door is fitted in.
"When it comes to fire doors, there is no room for error: they are a life-saving feature. We've worked with Falcon Timber to help make the specification of fire doors and associated hardware as simple as possible. We can provide further support to installers and help them to give their customers confidence in the performance of their new fire doors."
The products have been included on a EN 1634-1:2014+A1:2018 fire test specifically for use as a door assembly system with Strebord 44 fire doors. For more information about the tested products, call 01902 484 410 or email info.uk@hoppe.com.