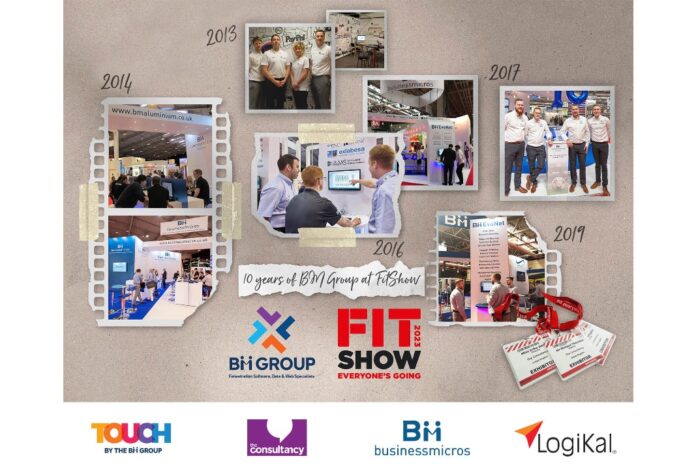 All four entities of the Business Micros Group are to exhibit together for the first time at the 2023 Fit Show, from 23 to 25 May. "That's big news in itself," said the group's representative, "but there will be several more firsts happening on the stand as well."
BM Touch
"It will be the first chance to see the group's ground-breaking BM Touch end-to-end lead generation, quoting and ordering software platform," the rep went on to explain. "There will be demos of both Touch Portal, the quoting and ordering tool for fabricators which links directly into their Evolution manufacturing software, and other Touch products for homeowner enquiries and lead generation – all powered by real-time access to their fabricators' product data, pricing and imagery.
"Two and half years in the making, Touch is already generating a huge amount of interest and has been installed at the likes of Comp Door, Portico, Sliders UK, Heritage and Universal, with a roll out to 30+ other big-name fabricators happening during the course of 2023. Visitors can find out what the buzz around Touch is all about and installers can even sign up for a month's free trial of Touch on the stand."
BM Aluminium
"Fit 2023 will also be the first showing in the UK of the latest v12 update for BM Aluminium's LogiKal software. A raft of improvements to the aluminium industry's favourite processing software are ready to be shared with customers, including the new, intuitive design layout, giving customers a better, faster and more user-friendly experience.
"Visitors will be able to discover why LogiKal is the leading aluminium fenestration software. It has the ability to handle multiple systems companies' data within a single project, and the ability to process the most complex commercial projects down to the simplest residential window and door application."
Business Micros
For users of Business Micros' core Evolution manufacturing and EvoNET ERP software, the stand is set to feature demos of the newest modules, including Courier and Register. Courier is a delivery scanning tool that was designed to allow fabricators to track deliveries. Register is a Touch-enabled product that aims to let fabricators embed any amount of information about a window or door into a single QR code, ready for printing onto a label and applying to the inside of a frame.
The Consultancy
The online ordering, web design and lead generation specialists at the Consultancy are to showcase new website designs and templates for both fabricators and installers to have a look at. Experts are also to be on hand to advise on digital sales tools, including door designers.
Nick Bailey, head of sales at Business Micros, summed up the stand: "Whatever kind of software help your business needs, there will be a solution on the Business Micros Group stand for you. We'll be demonstrating just how many elements there are to our offering for this industry, and emphasising exactly why new and existing customers just don't need to go anywhere else.
"We're the only software provider at the show with anything like our breadth of products. From generating a lead via one of our websites to attaching a QR code to the finished window and door, we've got every stage in the buying, manufacturing and fitting stage covered."
Paul Callaghan, managing director at the Consultancy, added: "We've all exhibited individually at Fit before, but this is our first time with all the group companies together on a single stand. It's a great opportunity for anyone who thinks they know Business Micros from Evolution, EvoNET or LogiKal to come and see us, and find out just how much more there is to the group today."