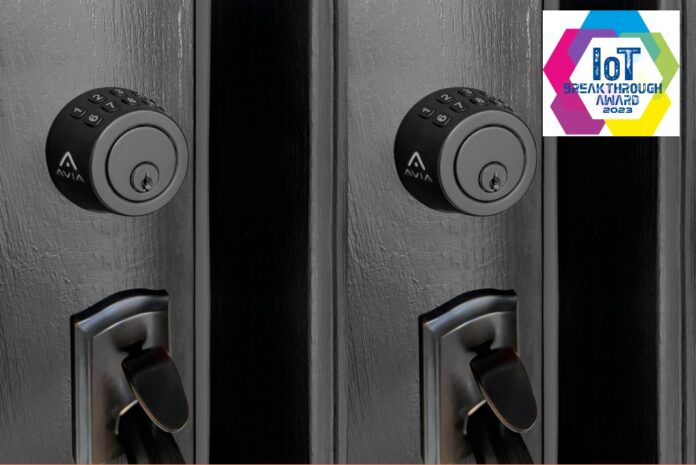 Mighton's Avia USA Smart Deadbolt+ lock has achieved the Smart Lock Product of the Year Award as part of the 2023 Internet of Things (IoT) Breakthrough Awards Program. Now in its seventh year, the IoT Breakthrough Awards garnered more than 4,000 submissions from global technology companies before winners were announced last week. The Avia product has been recognised alongside household brands including Apple, Fitbit, Vodafone and Bosch.
It is the second time that Mighton has achieved the Smart Lock Product of the Year award; its first win was in 2020 for the Avia Secure UK smart lock. The company has now won an IoT award in four consecutive years. The other two wins were for the Avia Secure sash window fastener and the Avia Secure casement fastener, which claimed prizes for Home Security Product of the Year in 2021 and 2022 respectively.
Combining mechanical and smart technology aimed at delivering ultimate peace of mind for consumers, the Avia USA Smart Deadbolt+ lock works with Bluetooth 5 for strong connection stability and maximum Bluetooth range. This means that it can be operated locally via Bluetooth or remotely with compatible Apple devices.
A manual key means that the lock can still be operated if there is a power outage. A complete audit trail of lock activity status alerts is also kept.
As the product is fully compatible with Apple's Homekit, users can share access to the smart lock with family and friends via an app. The lock can be controlled from all Apple devices including iPhone, iPad, Apple smartwatch and Apple Homekeys.
James Johnson, managing director of IoT Breakthrough, said: "The number of smart locks continues to grow, and smart homeowners are looking for flexible functionality. A lock that can be controlled easily, from Apple devices in particular, is a unique feature that sets Avia apart from the rest of the marketplace, which is why we want to recognise Mighton Products, once again, with our 'Smart Lock Product of the Year' award."
Mike Derham, founder and chair of Mighton Products, added: "We are deeply honoured to be singled out once again by IoT Breakthrough. Avia is all about security and total peace of mind for our customers.
"Avia has been sent to the world's best security testing houses for both physical and cyber security scrutiny. We believe that every smart lock should be subject to this testing.
"We simply want to give our customers the best smart lock ever," he went on to say. "As such, our design team has analysed every detail and put our lock through the most rigorous of test environments, to give you a product that is genuinely exceptional."
The Avia USA Smart Deadbolt+ lock is part of Mighton's Avia Secure family of retrofittable smart home security products that include the Avia sash window fastener, the Avia casement window handle and Avia door and window sensors. Avia Secure also features a smart socket and a high-tech motion PIR sensor.
All products in the Avia Smart Secure range are compatible with Apple Home Automation, and many products within the range carry BSI accreditation and/or Secured by Design (SBD) approval. Avia Secure products have been designed to be easily paired to Apple devices thanks to Bluetooth LE technology, allowing homeowners to check, remotely, whether their property is secure and if windows and doors are open or closed. Quick, hassle-free installation is also offered, the product's representatives have reported.
The product can be purchased individually or as a complete package. It does not require a subscription, which is a feature that sets the range apart from some competitor smart home security systems. For more details about Mighton's Avia Secure range, visit aviasmart.com.