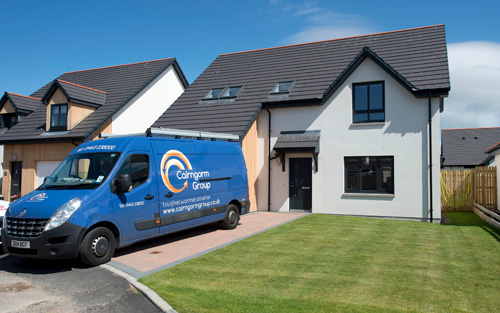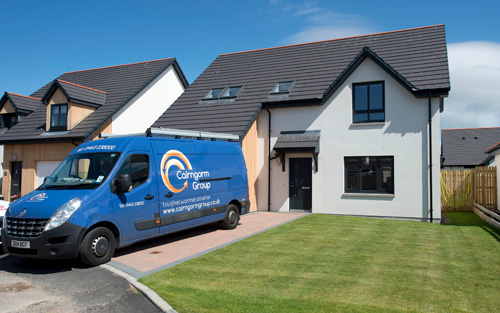 Recent contract gains for the Inverness based Cairngorm Group, manufacturer of high energy rated windows, are reportedly being supported with hardware supplied by Carl F Groupco.
With a Scottish distribution centre located in Cumbernauld, Carl F Groupco says it has a strong track record in Scotland and a partnership with Cairngorm Group that dates back to 2004.
Cairngorm Group reportedly began working with new home builder, Springfield, in 2013 and its latest contract has resulted in the company supplying its ninth Springfield development. With each site ranging from 50-100 mixed dwellings, the contract is described as 'significant'.
David Dowling, managing director of Cairngorm Group, said: "An ability to provide a PVC-U alternative for timber windows, while maintaining aesthetics and functionality with PN reversible window gearing supplied by Carl F Groupco, was pivotal in Springfield's decision to work with Cairngorm Group. The PN reversible hinge is particularly important as Scottish Building Regulations stipulate that it must be possible to clean upstairs windows from the inside.
"Carl F Groupco has also supported this contract with the Trojan Patriot hinge, which has been colour matched to complement the design requirements of this development. Colour continues to be a hot trend – for this particular scheme, an anthracite grey RAL 7016 outer was selected with white inner window and door frames."
An additional contract success announced by Cairngorm Group has been achieved in partnership with Compass Building and Construction Services. Working on behalf of Albyn Housing Association, the project – which is in year two of a potential four-year contract – will reportedly result in the renovation of 66 houses during this phase.
Originally built in the 1970s to accommodate oil rig workers, timber windows have previously been replaced however, PVC-U windows have now been selected to offer enhanced durability and longevity. Having successfully fulfilled the security and insulation standards required, the social landlord and local authority sector is a market set for further development by Cairngorm Group.