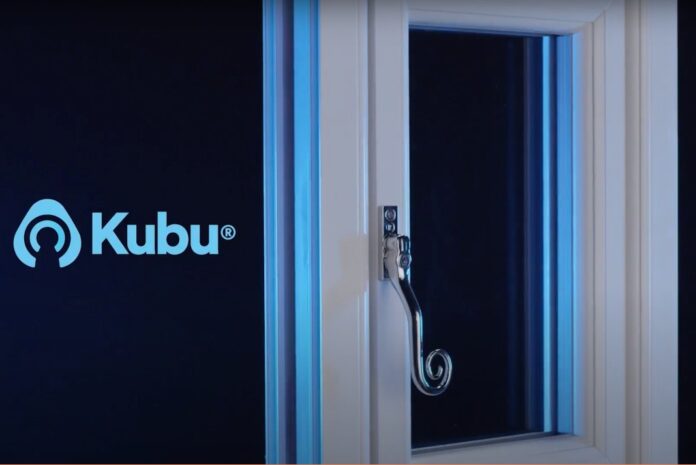 New window sensors from Kubu are now in stock, after a thorough development and testing programme. The newest in the Kubu Smart Security family is the first of its Avantis 'Works with Kubu' FMT window locks. A brand-new website is to allow consumers to purchase the all-new window sensors, in a matter of weeks.
Kubu smart sensor technology, and the platform that it runs on, has been proven and perfected over several years, in homes across the UK. The launch of the window sensor sees the introduction of its most advanced smart security sensor yet.
The sensor is completely concealed within the frame, and is able to report a multitude of statuses, from 'Fully Secure' to 'Open Wide'. It even knows when the window is in 'Secure Night Vent' mode.
The Kubu Window Sensor uses floating sensor technology, which allows the sensor to move with the window over time, helping the sensor to overcome such issues as sash drop. This means that it will always provide accurate status reports, without the need for repeated setup or calibration.
As a smart home platform, Kubu provides both security and lifestyle benefits, including 'SureSecure' location alerts, full smart home integration, family sharing, 'under attack' features, and weather and air quality notifications. All the latest Avantis hardware 'Works with Kubu' and will be showcased at the Fit Show on stand Q31 this May.
Ryan Bromley, Kubu's cofounder, said: "This year's Fit Show is huge for the industry, as we continue our march into the smart home market. Not only do we have a whole host of new developments in our Smart tech, but we now also have a comprehensive range of Avantis multi-point locks for both windows and doors that all 'Work with Kubu'."
He added: "We are developing additional products with other hardware manufacturers too. All this means our customers can now offer consumers smart security technology throughout their homes. There's no longer any need for fabricators and installers to wait. We're smarter than ever, and we're ready now, that's why we are urging everyone in the industry to "Be Smart, Work with Kubu"."
For information about working with Kubu as a manufacturing partner or Kubu Pro Installer, visit kubu-home.com/trade, email support@kubu-home.com or call 0330 555 9545. To see the exciting developments in real life, visit stand Q31 at the Fit Show.