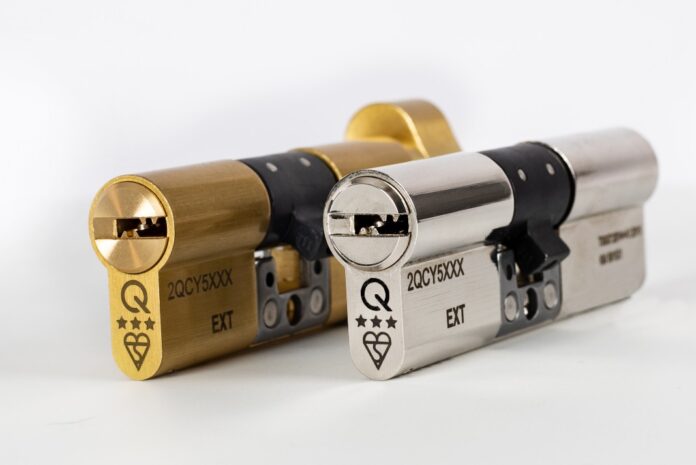 The popular GreenteQ Orion TS007 three-star profile cylinder, from hardware specialist VBH is now available in bespoke keyed-alike suites. Until now, keyed-alike cylinders were available in factory-produced pairs, or batches of 10, but all of the cylinders were matching in size and finish.
With the new option to open and repin Orion cylinders, customers can now have cylinders of different sizes and finishes, all operated by the same key. The solution is perfect, VBH claims, for homes with a composite front door, an aluminium bi-fold and a PVC-U back door, for example. Orion keyed-alike sets are processed and despatched usually within three to five working days.
Dan Powell, VBH's head of Sales, who has been heavily involved in the development of Orion, said: "We are delighted to advise our existing customers, and the market at large, that everything is now in place to produce customer-bespoke keyed alike sets. Orion has proved incredibly popular with door manufacturers and installers, as well as the locksmith industry, since its launch in 2021. The key alike option will only enhance its appeal."
Orion cylinders are approved to Kitemark TS007 with a full three-star rating. They are available in key/key and key/thumb turn variants.
End users are encouraged to register their new cylinder for a free ProteQ10 snap guarantee. ProteQ10 will pay the end user £2,000 direct if a break in is achieved due to the cylinder snapping, within 10 years of the installation date.
Dan added: "GreenteQ Orion cylinders that have been re-pinned through VBH still retain the integrity of their TS007 Kitemark three-star classification, which means that we can continue to offer the ProteQ10 snap guarantee on these barrels. It's important that fabricators and installers are aware that this is not the case with all cylinders or repinning services. In many cases, once a cylinder has been opened, the TS007 Kitemark is void."
For more information about GreenteQ Orion, and VBH's other products, visit vbhgb.com. Alternatively, email VBH at info@vbhgb.com.