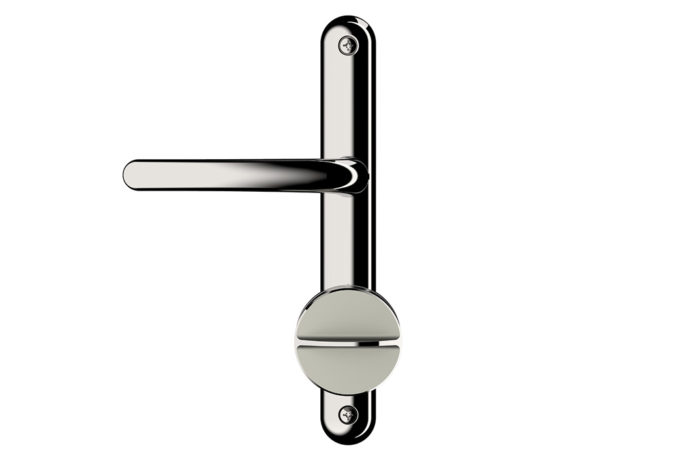 Ultion Smart has been developed in collaboration with Salto Systems. Its tried and tested Danalock technology, used with Brisant's most secure lock and handle, creates a new customer focussed Smart lock.
Brisant Secure says that Ultion Smart gives the consumer choice. It works on any door that takes a euro-cylinder. It is fitted with the Ultion 3 Star Sold Secure Diamond lock, comes with a £1,000 guarantee and with a real key. Brisant claims that its research showed that homeowners wanted the peace of mind of being able to override any technology with a key.
Ultion Smart can be retro-fitted and with the new technology located on the inside of the door, the homeowner has the choice of keeping their original external handle or suiting it with one of Brisant's Sweet handles. The additional benefit of this, says Brisant, is that from the outside, no one would know the front door was fitted with smart technology.
Ultion Smart reportedly does everything that a homeowner would expect from a smart lock. It works through an app, but to safeguard the door from being hacked, not through the internet. The app allows the homeowner to lock their door automatically through the app or voice command. It enables the homeowner to set a 'geofence' that works through Bluetooth, enabling the door to unlock automatically when the phone gets within range. All features can be switched on or off, dependent on the needs of the homeowner.
Ultion Smart can also work with Amazon Alexa using 'If This Then That' allowing the homeowner to lock Ultion Smart simply by saying, 'Alexa, lock the door.' It also works with Apple Homekit, enabling Siri, iPhone, iPad and the Apple watch.
Extra features include 'twist assist' meaning the lightest touch can open the door from the inside, which according to Brisant Secure, is perfect for people with arthritis or limited mobility. It can be supplied with a wireless keypad allowing people to be given a code to enter, either just one time or on multiple occasions. This is ideal for carers or Air B&B, says Brisant.
It works with batteries and glows red when they need to be changed, as well as informing the app.