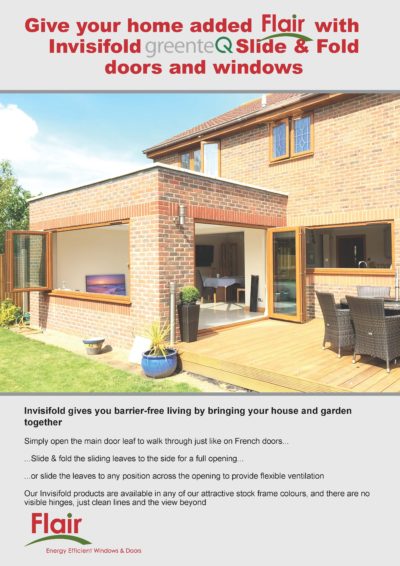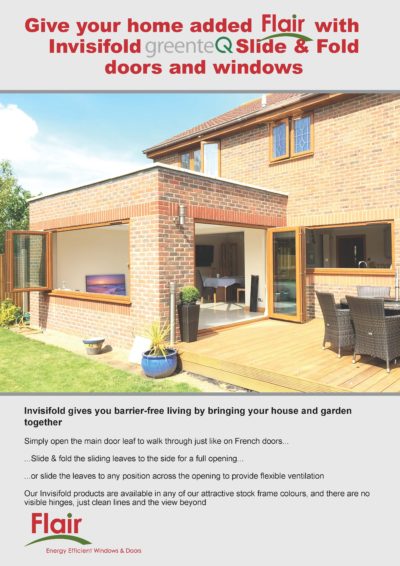 Flair Plastic Products recently introduced the Kömmerling PremiFold slide and swing system, which pairs the chamfered C70 and ovolo O70 profile suites with the greenteQ Invisifold slide & fold hardware system from VBH.
The company launched PremiFold/Invisifold at The FIT Show and was reportedly 'overwhelmed' by the product's popularity and the positive feedback received. Flair featured a door and an outward opening window on the stand and both were reportedly 'swamped' by curious visitors.
Flair marketing manager, Adrian Keegan said: "We took lots of firm enquiries from installers and our sales team has been busy following those up since the show. We're at the point now where everyone has been quoted and most are now buying. We're making three or four PremiFolds a week at the moment from a standing start just a couple of months ago and we know that will continue to grow, particularly when the window solution is available after testing is completed. We've made various configurations including a really nice six pane door and have had to create more fabrication space to cope with the anticipated demand."
Flair customers have the option of buying a standard PremiFold door or can upgrade to the PAS24/Document Q version. Adrian said: "Because we're using standard profiles we can fit our normal resi-door lock to keep stock down, but upgrading to PAS24 is really easy as we just need to follow the locking system specification laid out in VBH's PAS24 certification. Of course, offering a PAS24/Document Q approved door opens up the whole new-build market to us and our customers."
According to Flair, space is being made for PremiFold doors and windows in its on-site showroom, where trade customers are welcome to bring their own customers in order to 'try before they buy'. Flair says the PremiFold concept is unknown to most of the general public, so giving them the chance to operate a working sample 'usually supplies the "wow" factor that leads to a sale'.
Adrian said: "Because the greenteQ Invisifold hardware is all concealed, it means we can make PremiFolds on any of our nine stocked colours. Anthracite grey is proving particularly popular. The end users love the colour options and the fact that they can choose how many door leaves to open, and whether to fully fold them or just slide for ventilation. It's a truly flexible door that allows customers to get the full use out of their garden space. Feedback that we are receiving from installers is that PremiFold is very easy to fit, so time taken on site is kept to a bare minimum."
Flair has also started manufacturing the Smarts Visofold aluminium bi-fold door, using greenteQ Clearspan hardware.
Adrian concluded: "2016 has been great so far. We've worked together with VBH on these two exciting new greenteQ-geared ranges and the support they've given us has been exceptional. Dan Powell of VBH has been very pro-active in training our fabricators and has also visited site to familiarise the installers with PremiFold. VBH have also provided us with artwork for a retail flyer than is helping generate sales in that sector. Our geographical position at the centre of the midlands motorway network means that we are ideally placed to offer our new ranges to customers wherever they are in the UK."