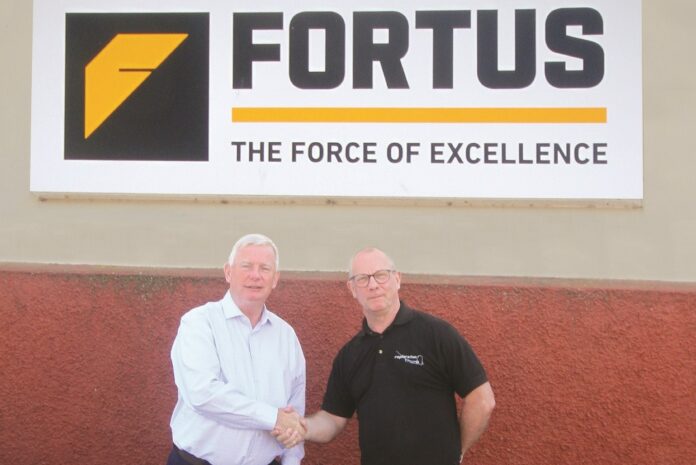 Fortus Hardware has partnered with Rapierstar to ensure supply of high-quality fasteners for its fabricator and installer customers. Part of the Profast Group, which has been distributing essential products to the industrial and construction sectors for more than 30 years, Fortus Hardware works with many of Ireland's windowmakers, and is marketed as one of Ireland's leading hardware distributors to the window and door industry.
The hardware company has developed a portfolio of products from the fenestration industry's major brands, including ERA and Maco. Employing 12 people at its 25,000ft² HQ, warehouse and distribution centre in Belfast, Fortus claims to be ideally located to supply manufacturers and installers across the whole of Ireland with next-day deliveries. The company has an experienced team and strives to provide outstanding technical support so that customers achieve quality and productivity goals, whether they are using PVC-U, aluminium or timber systems.
Philip Gregg, managing director of Fortus Hardware, said: "Partnering with Rapierstar is a great fit for our business and our customers, as their team shares our approach. Like us, they have always focused on being a solutions provider rather than just being a sales outlet, supported through an experienced and technically knowledgeable team, backed with first class customer service.
"Rapierstar adds great value to what we do both in terms of the performance of their fasteners and, importantly, the guarantee of supply. In the past two years, the window and door industry has been severely impacted by supply chain difficulties, so it is more important than ever that we do everything we can to give fabricators and installers access to the best availability of products. For fasteners, we think there is no more reliable choice than Rapierstar."
Paul McAuley, Rapierstar's technical consultant, added: "It is no surprise that the vast majority of Ireland's window and door manufacturers work with Fortus in some capacity, as Philip and the team have an excellent approach to what they do. We are really pleased to have formalised our fastener supply partnership with them, a move that gives their customers easy access to our deep UK-held stocks of the complete Rapierstar range, plus specialist support should they ever need it."
Marketed as the UK and Ireland's leading specialist fastener supplier to the door and window industry, Rapierstar provides a range of products to distributors and fabricators of all the major profile systems. It holds more than one billion items in stock at its 100,000ft² warehouse and distribution centre in Cheshire, and has a team of technical consultants that works closely with customers to help them optimise the quality of finished products. Read about the golf fundraiser that Rapierstar hosted last year, here.