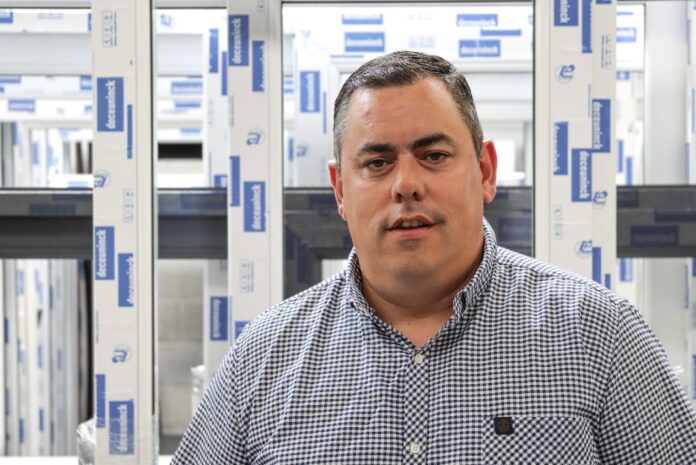 Patios Southwest has taken on Deceuninck as a single source for its PVC-U patio sliding door profile, in a bid to manage quality and supply. The Newton Abbot-based company had dual sourced for a number of years but found that increasing numbers of customers were moving over to Deceuninck's Slider 24+ system to benefit from its features.
"Up until recently, Deceuninck increased its share of our customer base so that it accounted for 95% of all the work we were doing," explained Stuart Prior, general manager of Patios Southwest. "The key drivers are the excellent colour offer and the industry-beating lead times. Deceuninck has more than 30 colours in stock, all ready to go. So even if we wanted something like Agate Grey, we can order it and get our products out of the door in two weeks."
The final development that encouraged Patios Southwest to move to Deceuninck for 100% of its patio sliding door profile was the introduction of the sculptured sash. "We had a handful of customers who relied on a sculptured sash for some of their sales, so when Deceuninck introduced a sculptured sash earlier this year, the reasons for having two systems running side by side disappeared," Stuart said. "We've now informed our customers of our decision to move over the Deceuninck 100%, and we've only had positive feedback."
Deceuninck's Slider24+ is manufactured at the company's facility in Calne, Wiltshire. It is marketed as being robust, PAS24-secured and offering market-leading weather performance. It is also energy rated at A+, is available with a low threshold and comes with a 10-year guarantee.
The new sculptured sash means that the Slider24+ now suites with Deceuninck's Heritage Window Collection and the 2800 system. This will allow installation companies to upsell across product ranges as well as maximise opportunities provided by the systems company's colour offering, according to the business' representatives.
"We are very excited for Patios Southwest," said Rob McGlennon, Deceuninck's MD. "They manufacture up to 150 patio doors each week, and more than half of that is colour – so they've definitely found their niche."