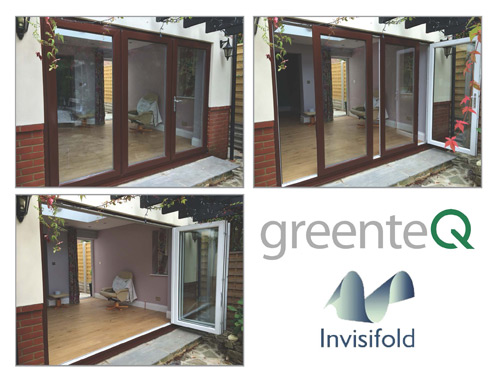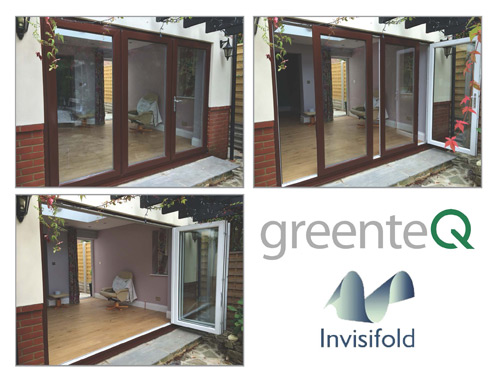 Invisifold and VBH have teamed up to develop and launch an 'exciting' new system for slide and fold doors and windows.
The system, known as greenteQ Invisifold, is being introduced by VBH this winter and includes applications for doors, tilt and turn windows and even outward opening casement windows.
VBH believes this to be the only solution that allows standard profiles to be used for slide and fold door and window applications.
According to VBH, the systems have been thoroughly tested through many installations in the UK and are also currently undergoing testing for PAS24. Invisifold will consequently comply with Document Q, once certification has been issued on a given profile. Initial indicative tests are said to have been 'very positive', with excellent weather ratings and resistance to forced entry.
Peter Rowlands, MD of VBH, commented: "We have seen the interest in slide and fold systems growing in the market place and noted the general excitement around these products from a consumer view point. The market for bi-fold doors has grown rapidly and exposed the consumer desire to open the home completely to external areas such as patios and gardens. greenteQ Invisifold provides an extension of this market, allowing more flexibility in that the sashes can be neatly stacked, or part opened and closed to allow more variation in the opening space.
"The greenteQ Invisifold design is a major step forward as it allows standard profiles to be used for both doors and windows. The fact that the system has the potential to be Document Q compliant is also hugely beneficial as this style of opening is perfect for new build installations.
"The partnership between the two companies came about as VBH were looking to develop a solution for fold and slide. Neil Ingram and Steve Smith had formed Invisifold and were already well advanced with their own development work. The partnership combines the creative and design expertise of Invisifold with VBH's international logistics competence and technical support.
"It is not very often that anyone can say that they have a completely unique offering in the market, so we are very excited about the potential of Invisifold products in the UK and worldwide! We look forward to presenting them to our customers in the near future."