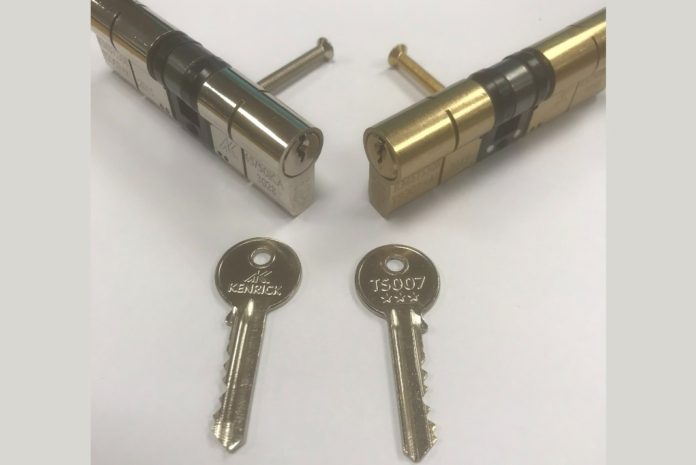 Hardware supplier Kenrick has joined the Master Locksmiths Association (MLA) – the UK's largest and longest established locksmith trade association. The West-Bromwich-based firm's TS007, three-star, high security cylinder has now been tested and approved by the MLA to combat lock snapping.
Tested to meet the latest security standards of the British Standard Kitemark (TS007 3*), the Kenrick three-star euro lock cylinder has been designed for fabricators that want a top-of-the-range door locking solution at a reasonable price, that also helps to prevent lock snapping, the company says. The Secured by Design-approved cylinder features multiple high-security pins, to provide maximum security and excellent resistance against the other known cylinder attack methods, including picking, drilling, bumping, pulling and screwing.
Steve Williams, Kenrick's sales and marketing director, said: "We're delighted to become a member of the MLA and to be doing our bit to help stamp out lock snapping. With more than 70% of burglars gaining access to a property through a door in a matter of seconds, the choice of hardware for that door is essential.
"We need to reduce the incidences of these types of crime, and offer far greater peace of mind for the homeowner. Our new, three-star cylinder eliminates any possibility of tampering with the cylinder, making homes much less vulnerable to attack.
"What makes our cylinder special though, is that it meets the standards of TS007 on both sides of the cylinder, which means that fabricators only need to stock one cylinder for both open in and open out doors. It's also compatible with an A1 key blank, so homeowners can easily buy extra affordably-priced keys from the high street, if they need to. It is a reliable and versatile solution with no compromises."
The cylinder is manufactured in a polished brass or a nickel finish and can be easily retro-fitted with no additional preparation. It is available as Paired Alike or Thumb Turn and in sizes from 70mm to 110mm in 5mm increments. The cylinder has also been tested to 100,000 cycles and comes with a 10-year mechanical guarantee.
The Master Locksmiths Association was established to set and promote high standards of conduct, practice and materials within locksmithing. The Kenrick three-star euro lock cylinder was tested at the MLA's Sold Secure test house, which certifies security products through attack testing.
Kenrick is a supplier of hardware solutions for PVC-U, aluminium and timber window and door systems. The company has a proud heritage spanning more than 200 years, having been established by Archibald Kenrick, who manufactured buckles and livery fittings. Kenrick's range of top-quality products includes the Excalibur multi-point locking system, the four-point Centurion system and the Easifit and Espagnolette locking systems.