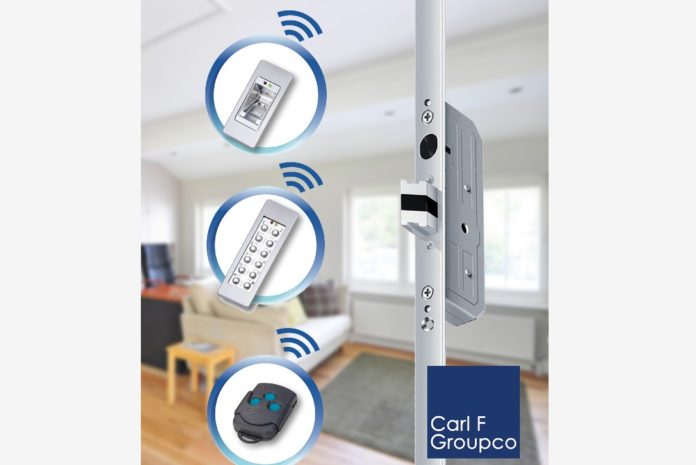 Hardware specialist Carl F Groupco has added an autotronic 834 lock, from the German hardware brand, FUHR, to its suite of SmartSecure electronic door locking and access control solutions. Described as one of the most important additions to the company's 2021 catalogue, the reportedly highly versatile, hybrid product is a major expansion to the SmartSecure brand.
The 834 lock provides a combination of automatic locking and electronic, motor-driven unlocking. As such, it is an appealing option that is fully compatible with all existing SmartSecure locking and access control variants. The autotronic offers a practical solution for multiple occupancy buildings, says Carl F. The solution is also advantageous for properties that require the security and convenience of an automatic lock, plus the advanced functionality of an electromechanical lock with access control options.
John Mitchell, Carl F Groupco's technical manager, said: "On closing the door, two latching deadbolts simultaneously extend and lock in place. This provides additional security, compared to traditional, mechanical locking mechanisms, as the user doesn't need to remember to secure the door.
"Unlocking the door is motorised. This enables the addition of access control and integration into existing building management systems. From the outside, the door can be opened using a cylinder key or access control. It is secured on closing and can be deadlocked using the cylinder key provided.
"An 834P panic/emergency exit variant is available for single and double doors, providing all the benefits of the 834 lock while allowing unimpeded escape from the inside of the building using the lever or panic push bar at any time, on either the active or inactive door leaf. The hardware meets British standard requirements when used alongside the recommended FUHR lever handle (EN 179 for emergency escape) or Panic Bar (EN 1125 for panic exit) and the CES free movement cylinder."
The autotronic addition is set to have major impact, Carl F Groupco claims, citing SmartSecure as the most significant development in the company's history, which spans more than 70 years. The business is confident that the new addition will support the growing electronic door locking and smart access control market.
Click here for more product detail.