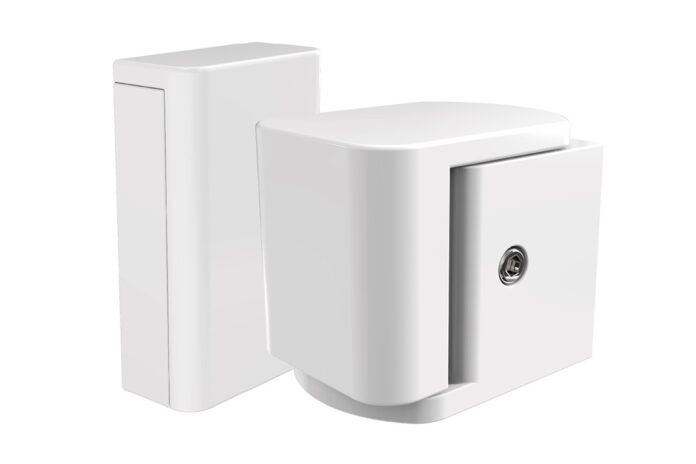 The Mila hardware team has launched Advance bi-fold door magnets – the first of the hardware specialist's new 'designed for aluminium' range. The magnets are designed to hold open both traffic and intermediate bi-fold doors.
Mila's Advance magnets feature self-aligning pivot technology on both sections. This allows them to move up to 30° from side to side, so that they always achieve 100% face-to-face contact, for a more secure and reliable hold.
Mila's design team has developed the free-moving pivot technology in house. A patent is pending on the self-aligning element.
"With the fixed bi-fold door magnets that have gone before, you only get an optimum connection when the doors are consciously opened fully by the user, so there is always a danger that they will swing back or dislodge in blustery weather," said Paul Pearson, Mila's product design director.
"With the more 'Advanced' Mila magnets, you get optimum connection as soon as the magnets come within reach of each other. That guarantees a more secure hold.
"They also feature top-quality N52 neodymium magnets inside, which have a high strength-to-size ratio. They are just 20mm wide and visually neat and discreet."
The new Mila Advance magnets are available in two variants for traffic doors and intermediate panels, and in six of the most popular suited finishes: anthracite grey, black, white, polished chrome, polished gold PVC and satin nickel. A clear, durable, anti-scratch shield protects the surface from scratching when the magnets are moving.
Richard Gyde, Mila's managing director, added: "When we announced the Advance initiative last month, we promised precision engineered products with clever design features that would solve the kinds of hardware problems regularly encountered by aluminium fabricators. That's exactly what we've delivered with the new Advance magnets.
"They represent real progress in terms of performance and at the same time are quick and easy to fit. As a result, we're already partnering with some of the UK's leading aluminium systems companies to supply these magnets with their bi-folds."
The Mila Advance magnets have been successfully tested to BSEN 1670 for weather resistance and are backed with a 10-year surface finish and mechanical operation warranty. To find out more details about Mila's Advance products, visit the company's website.