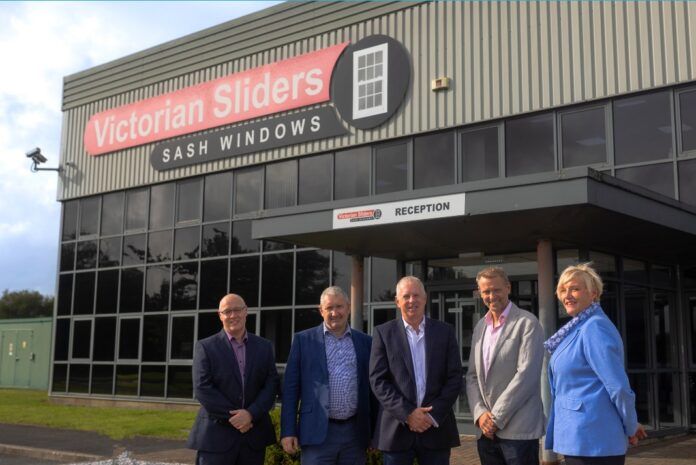 Leaders of the investment firm BGF have provided an additional round of funding, alongside HSBC, to support Victorian Sliders' growth plans. The investment into the fenestration manufacturing business follows a previous investment from BGF in August 2021.
As a result of the transaction, Scot Starkey has left the business to pursue other ventures.
Steve Winslet, Victorian Sliders' group managing director, has recruited new team members, including Mark Shather, who has joined the team as finance director. Mark has decades of experience in multiple sectors, including window manufacturing.
Nick Evans is Victorian Sliders' strategic development director. He has significant funding and operational experience in private-equity-backed businesses across global markets and multiple sectors, including manufacturing.
Jason Powell has worked alongside Steve since August 2022, leading production. The imminent appointment of a sales and marketing director will complete the new team.
In the coming months, the team aims to drive product development, key strategic partnerships and expansion into adjacent markets and geographies.
Edwin Davies, a BGF investor who also joined the Victorian Sliders board, said: "As a long-term investor, we are very proud to have supported Victorian Sliders accelerate its growth journey over the last three years. We have seen Victorian Sliders go from strength to strength and we are confident that with BGF investment, combined with the new leadership team's experience and expertise, the business' impressive growth trajectory will continue to gather further momentum."
Steve added: "We want to thank Scot Starkey for his years of investment and dedication to the business, and wish him all the best for his future ventures. Now, with an experienced new leadership team in place, our focus is on implementing a customer-centric strategy that puts the installers, housebuilders, local authorities and housing associations we work with first.
"Over the last 18 months, we've already driven huge improvements in quality, reliability, lead times and customer service in general. In the months and years ahead, we're determined to continue those improvements, and turn Victorian Sliders into a world-class manufacturer.
"We're delighted to be entering this exciting new era." For more information about the business, visit the manufacturer's website or call 01269 846 200.