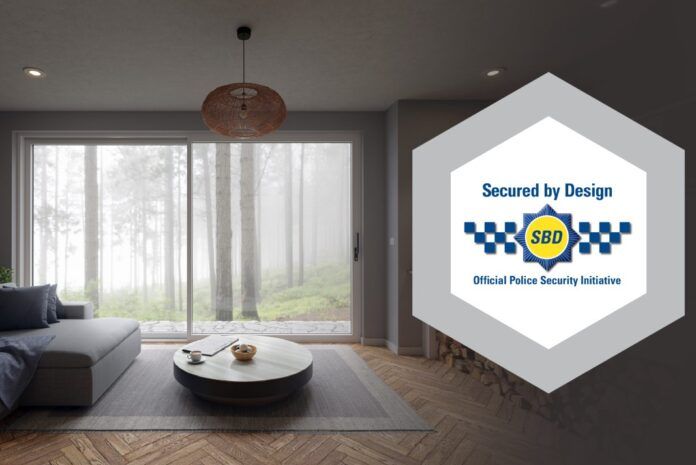 Every product within the Sheerline Prestige range is now Secured by Design (SBD)-certified, the Sheerline team has announced. The Prestige lift and-slide patio door is the latest product to have joined the rest of the aluminium windows and doors in the range that are offered with full SBD accreditation.
"This latest addition underlines Sheerline's commitment to delivering the safest, most secure products possible," said the brand's representative. "It gives homeowners additional peace of mind as manufacturers must go through a stringent third-party process to achieve SBD accreditation, the official police-backed security initiative.
"Prestige lift and-slide patio doors were designed with security in mind, offering PAS24:2022 as standard. In-built security features such as high-security interlocks bind sashes together to stop unwanted intruders, and are rated to an impressive 4.5KN. These security features are coupled to some unique selling features such as retracting hook locks with flush-fitting keeps that prevent snagging clothing when the doors are open. These features create secure doors with real consumer appeal.
"SBD accreditation clearly signals to homeowners that the Prestige range is strong and secure enough to withstand attacks from opportunist criminals. Offering SBD-certified products is all part of Sheerline's business ethos, which centres on giving consumers the best possible aluminium windows and doors in terms of style, security, and sustainability, all created around a common system platform – something that differentiates the company from its competitors.
"The Prestige-lift and-slide patio door was designed to help homeowners create a room with a view. It's available in dual- and triple-track options, and operates flawlessly at any size, offering a maximum width of 6.5 metres unjointed and a maximum height of 2.5 metres.
"As a high-performance product, thermal efficiency is in built through Sheerline's proprietary Thermlock technology. This utilises a multi-chambered thermal break that is more insulating than traditional polyamide alternatives. As a result, the product offers double glazed Part L compliance as standard."
Roger Hartshorn, CEO of Garnalex, which owns the Sheerline brand, added: "Since launching Sheerline, we have proven repeatedly that we know what homeowners want. We are committed to providing that without compromise. The fact that our entire Prestige range is now SBD-accredited illustrates this point perfectly.
"We understand the need to be exceptional in order to standout and shake up the aluminium industry, which is what we've been doing since day one. But part of the reason that this SBD accreditation is so important to us is because of what it symbolises for homeowners and their families. It provides peace of mind and reassurances that regardless of whether they are in their home at night or away on holiday, their windows and doors won't let them down."
To find out more about Sheerline's Prestige lift and-slide patio door, visit the website here. Alternatively, contact Sheerline on 01132 978 000 or email info@sheerline.com. Follow @SheerlineSystem for the latest news and updates.