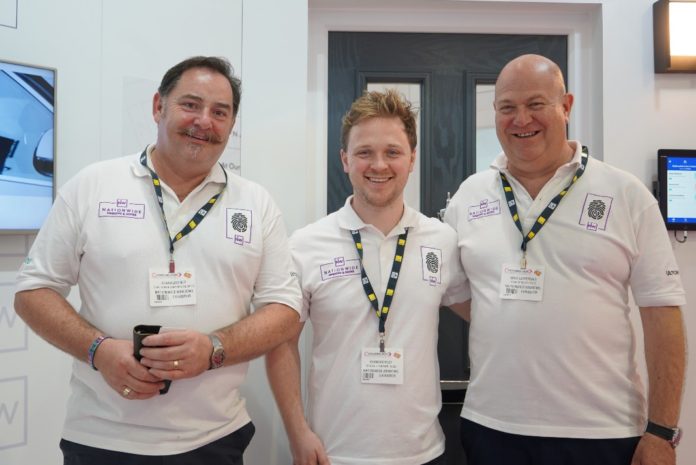 The Nationwide Windows team, in partnership with the smart hardware brand Kubu, has returned from Housing, the Chartered Institute of Housing's annual conference and housing festival, with firm enquiries for 'revolutionary' smart sensor technology for windows and doors. The Housing conference took place in Manchester, from 7 to 9 September.
Housing, held over three days at Manchester Central, saw over 6,000 attendees, more than 350 speakers and 350 exhibitors, including Nationwide Windows, at the event. Housing 2021 was described by the organisers as a must-attend event for local authorities, housing associations, key partners and suppliers, government, housebuilders and developers.
Nationwide Windows' theme, 'making windows and doors smart', showcased products on their stand that work with Kubu's smart sensor technology. This included the new Kubu window lock range, with shootbolt and standard security espags. Importantly, the event was the first public preview of the new Kubu window smart sensor.
Also on display at the event was the Kubu multi-point door lock, featuring 25mm hooks and a 20mm compression deadbolt. The Kubu smart sensor was fully operational within Nationwide's composite doors.
The event was also an opportunity for Kubu to present the 'Kubu Connected Home' philosophy with Nationwide Windows, and the partnership opportunities open to housebuilders, local authorities, housing associations and other specifiers in the sector. Ryan Bromley, Kubu's head of tech, said: "This was a hugely exciting opportunity for us, working closely with Nationwide Windows, as it was the first public premier of the new window smart sensor. It was also important to be able to speak to influencers at the sharp end about our vision for a Kubu-connected home in the future."
Kevin Caveney, Nationwide Windows' commercial director, who was part of the conference team, added: "We already have an idea of how a smart future will look with Kubu. But the response from the show was overwhelming. The opportunities for us are considerable as we look to embrace the smart home market through commercial specifiers. They're hugely interested in becoming part of this smart revolution too, and we're already engaging with a number of potential suitors".
For further information about Nationwide Windows and Doors, visit nwd.co.uk or email enquiries@nationwidewindows.co.uk. To become a manufacturing partner or Kubu Pro Installer, visit kubu-home.com, email support@kubu-home.com or call 0330 555 9545 for a free information pack. You can also follow @KubuSmart on social media.