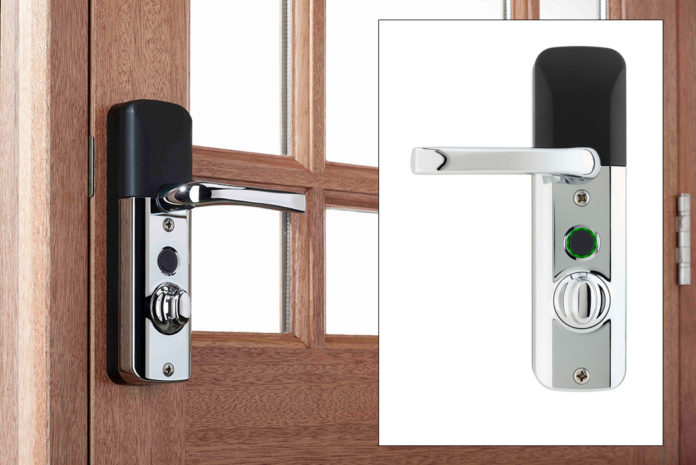 Cambridge-based door and window hardware specialist, Mighton Products, has developed and launched a new smart lock with Apple HomeKit technology at its heart – said to be a world first for multipoint door locks.
Mighton unveiled Avia at the giant Consumer Electronics Show (CES), which took place in Las Vegas early in January. With more than 182,000 visitors, CES is a showcase for the latest in electronics and Avia is reported to have attracted attention from media and visitors keen to see any new device launched under the Apple HomeKit banner, including TV coverage and features on dozens of online tech reviews. The firm also took part in an Apple product launch event in New York in December.
According to Mighton, Avia revolutionises entrance door security using Apple devices: the multipoint locks are secured by raising the handle and unlocked using the dedicated Avia app installed on an Apple iPhone or iPad, by using a highly secure key fob from a range of up to 30 metres, or via an electronic keypad. A further innovation that will be available later in 2019 is face recognition, activated via an optional accessory. Avia may also be controlled via the app from anywhere in the world, for example to allow easy access for service providers.
Users of the Avia app can learn 'at a glance' the status of the lock, with a full audit trail recorded for all activity. A traditional key may be used in the TS 007 3 star cylinder as an emergency backup to offer total peace of mind. Mighton says that any competent person may install Avia in minutes on existing multipoint-equipped doors.
Mighton's Mike Derham commented: "Mighton Avia has been thoroughly developed and extensively tested to ensure that we have a highly functional, secure and effective product that is simple to install and which works seamlessly using Apple HomeKit technology. Recent statistics show that there are 1.3 billion active Apple devices worldwide. For everyone with an Apple iPhone or iPad Mighton, Avia will provide a highly effective Apple HomeKit-enabled smart lock solution for their home or properties under their control. After extensive development work with Apple, users will have the confidence that Avia will work seamlessly with their devices."
Mighton Avia smart locks and accessories will be available from May 2019 via the Apple website, Amazon and direct from Mighton via a dedicated website, with plans to also make products available through the UK window and door trade.