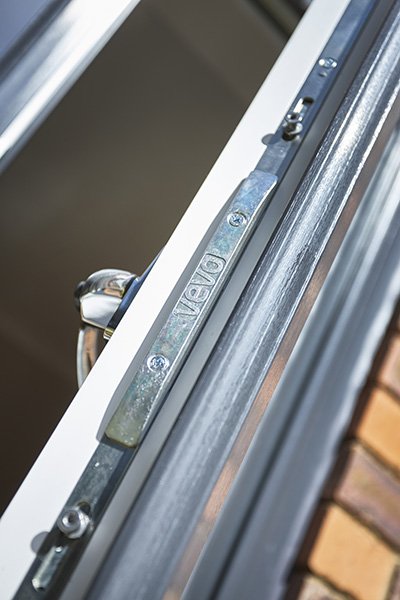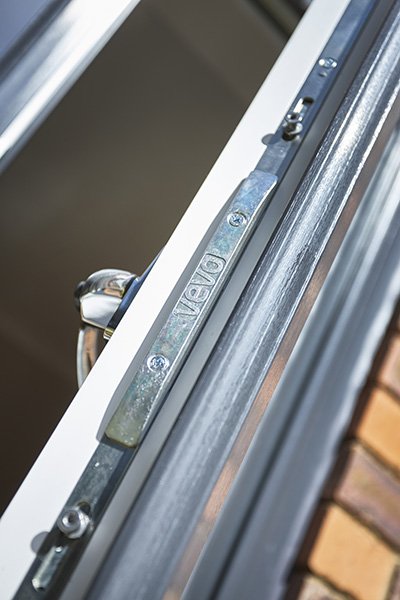 Kenrick has marked a decade of supplying hardware to Garrard Windows, one of the largest trade fabricators in the south.
During the 10-year partnership, Kenrick has kept pace with growth at Garrard Windows and has supplied close to two million Kenrick locking systems.
Each of the 2,500 Liniar profile windows that Garrard Windows fabricates every week is equipped with a Kenrick system. Garrard fits Kenrick's Centurion four-point locking system as standard on the windows and also offers the Excalibur locking system with specially designed 'Vevo' branded bespoke shootbolts as a high security option. Kenrick brands the cover plate of the Centurion gearbox and Excalibur's keeps with Garrard Windows' 'Vevo' logo.
Steve Leek, Garrard Windows' director, said: "Like any high-volume fabricator, we need to specify high quality components that don't fail. We're a longstanding customer of Kenrick for the simple reason that its products consistently perform and don't cause problems during service. Centurion and Excalibur are also competitively priced, which helps us to pass on cost savings to our customers. Both systems carry our Vevo logo, which helps to add weight to the quality of our brand. Equally important however is that Kenrick has maintained a reliable supply to us during our partnership and has the capacity to increase supply in line with our growth."
Garrard Windows is reportedly on course to achieve an output of 3,500 PVC-U frames a week. The firm is currently building a third 40,000ft² factory near Aylesbury to fabricate aluminium frames. Its two existing factories will be dedicated to PVC-U manufacturing. PVC-u production is predicted to increase by 40% when the build is completed.
Excalibur is described as a 'reliable' multipoint locking system that benefits from a robust unhanded die-cast gearbox and bi-directional die-cast claws. Secured by Design approved, it is said to offer 'first rate' security features, while also being simple to install.
Centurion is Secured by Design accredited and has been engineered to provide a 'reliable and adaptable' locking system. It offers high levels of security and features steel shootbolts, an unhanded die-cast gearbox, adjustable mushroom cams and a night vent.
Excalibur and Centurion are supported by a comprehensive suite of product literature which is tailored to the installer or end user. It also comes with its own security guarantee, which offers up to £500 towards the cost of replacing a damaged window or door and up to £600 towards the cost of replacing stolen property for a period of five years from the date of installation.
Steve Williams, Kenrick's sales and marketing director, added: "In such a competitive market, we are delighted to celebrate a lengthy working relationship with Garrard Windows. Our Excalibur and Centurion systems have helped to deliver reliable security to many homes within Garrard's heartland of the south of England and we are looking forward to building on this achievement and supporting Garrard as it grows."