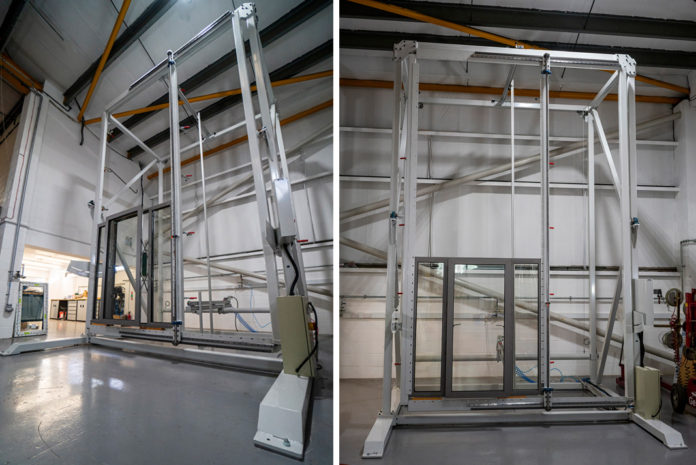 Yale has said that its new commercial test rig 'opens the way for superior capabilities, smarter testing and greater opportunities'.
According to Yale, in an age of increasing fenestration scale, where glazing products are becoming bigger and developments and renovations are getting larger and more unique with architect flare, the industry must keep up with the ever changing demands of window and door hardware.
Using its new super scale testing rig, Yale says that it is able to ensure customers of the durability, capability and compliance of its products. When used in endurance testing, Yale adds that it can now monitor the load with each and every cycle – allowing the team to measure the operating force of products during testing.
With the ability to conduct mockup tests with an adjustable vent and frame mechanism for unique window designs, Yale says that it is undertaking a higher volume of larger-scale projects.
The test rig reportedly enables indicative testing on project specific opening vents, with the ability to tip the rig into any inclined position between vertical and +/- 20 degrees, and tailor the test to represent a particular building or project.
Testing for almost all international certifications and standards, the rig ensures products are compliant to British Standard BS6375, America's AAMA and China's JG/T 433 certifications.
Grant Stratford, technical director at Yale, commented: "We are so pleased to be able to expand our testing facilities to meet the ever-growing needs of our customers. The capabilities of the new rig mean we can test all sorts of weird and wonderful window designs. For example, we are endurance testing a triangular mock-up vent at the moment, which is being carried out to the customer's unique requirements.
"Here at Yale, we aim to provide the best possible product and service for our customers. The capabilities of our new commercial test rig allow us to become more flexible and provide even better customer service than before, therefore giving customers peace of mind that products have been tried and tested with the upmost accuracy and credibility – specific to a certain project or application."