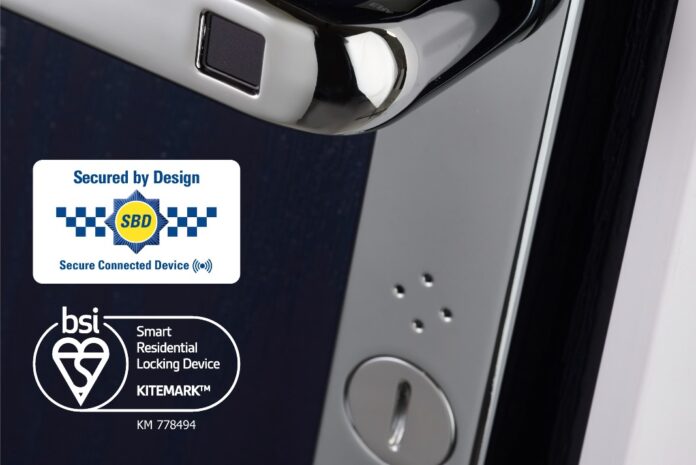 ERA's TouchKey access solution now has Secured by Design (SBD) Secure Connected Device accreditation. Launched specifically for Internet of Things (IoT)-connected products, the accreditation highlights solutions that have achieved the relevant IoT standards and certifications, including third-party testing and independent certification.
Ben Penson, ERA's technical, innovation and development director, said: "For over 180 years, ERA has designed and manufactured hardware that sets the standard for security. Receiving the SBD Secure Connected Device accreditation for our new TouchKey door security solution reflects our longstanding commitment to third-party testing and certification to ensure we consistently provide customers with the highest possible standards of performance and quality.
"TouchKey presents the next generation in smarter door security. It was therefore crucial that the product was certified to the highest possible standard to provide door manufacturers and their customers with complete peace of mind and confidence in its capabilities."
After independent testing to BSI's new Smart Residential Locking Device standard, which was developed in conjunction with ERA and combines the BSI IoT Kitemark with TS 621 for mechanical security with smart locking, TouchKey has also met the requirements of the SBD's IoT Device assessment framework. Revolutionising keyless entry for timber and composite entrance doors, TouchKey is marketed as the only system of its kind to combine five different entry methods into a single door handle. This includes fingerprint access, the smart home app, geolocation technology, voice-activated entry and a manual key override.
Combining a smarter security door handle with an auto-firing multi-point lock and an anti-bump security cylinder, TouchKey is said to deliver the highest standards of dynamic smart technology with mechanical hardware integrity and endurance to provide complete security and convenience. TouchKey is now listed by SBD as a police-preferred specification product after meeting the necessary recognised security standards.
The accreditation forms part of SBD's certification scheme on behalf of the UK police service to help consumers make better-informed choices when buying connectable devices, to help avert crime. The year 2023 marks ERA's 10th consecutive year of partnership with SBD.
Michelle Kradolfer, SBD's internet of things technical officer, said: "With the increase in IoT products available and a growing ecosystem of interconnected devices, cyber criminals are targeting and exploiting vulnerabilities of both products and apps, as most are mass-produced without security being a major consideration. Without the appropriate levels of security, any internet-connected device or app is at risk of providing cyber criminals with the 'key' in accessing and stealing personal data. SBD is the only way for companies to obtain police recognition for security-related products in the UK and we are delighted to award ERA with this accreditation for its TouchKey system."