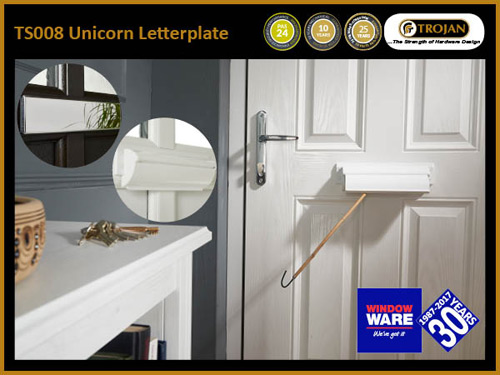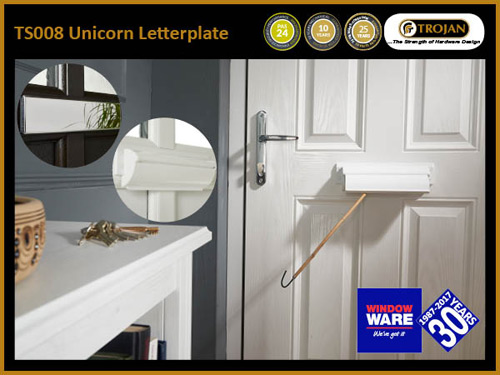 According to Window Ware, anyone who has scoured the market recently for a PAS24 compliant letter plate will have turned up 'meagre findings' despite increasing demand for high security hardware.
And, says Window Ware, unless you're prepared to spend extra time fitting a separate internal restrictor cowl on a standard letter plate or a self-contained external post box, you're going to struggle to meet the latest requirements of PAS24:2016 and Approved Document Q of Building Regulations.
Thankfully, says Window Ware, the 'clever' engineers at Trojan have responded to this gap in the market with the launch of the TS008 approved, Unicorn letter plate, which is said to be 'a great catch for fabricators struggling to meet the very latest requirements of PAS24:2016 and Approved Document Q of Building Regulations'.
Said to fit most domestic front doors, Trojan's TS008 Unicorn letter plate can reportedly achieve 'top-level security' straight 'out-of-the-box' and is now available to buy from Window Ware.
Window Ware's technical specialist, Robert Vaughan, said: "The TS008 Unicorn letter plate is the perfect addition to our range. Innovative products like this ensure we are always answering our customers' calls for high-spec hardware that complies with the requirements of the PAS24: 2016 standard or Document Q of Building Regulations."
The TS008 Unicorn letter plate's patented design aims to reduce the likelihood of thieves using the letter plate to gain unlawful access to the home, or to steal personal belongings near the entrance. The inner protective housing has a unique concealed hinge mechanism to prevent attack. To guard against 'fishing', the inner flap has a 'positive stop feature' which lets mail through freely but won't open wide enough to feed 'light-fingered hands', rods or hooks through the letter plate. And though the internal flap stands proud of the door somewhat, according to Window Ware, it only projects out as far as the average door handle, so it won't 'encroach on hall space'. Concealed external fixings also make it difficult to remove the letter plate by force.
The TS008 Unicorn letter plate is said to be suitable for both composite and PVC-U doors. Window Ware stocks a choice of three external finishes: chrome, PVD gold and white, all with white internal finish as standard. The external flap is manufactured from weather-resistant 304 stainless steel, with a 25-year anticorrosion guarantee (galvanised mild steel is used for painted finishes). There's also a 10-year mechanical guarantee on all versions.